Anna Formela's talent as a professional make-up artist, face and body painter has seen her work on everything from children's parties to music videos.
Her artistic flair has seen her create many spectacular colourful and vibrant designs on themes of animals, sci-fi, beauty and horror to more avant-garde and abstract imagery.
Anna, 38, who is from Poland, successfully completed a Hair and Media Make-up Level 2 Diploma at the College of Haringey, Enfield and North East London (CONEL) in July.
Prior to studying at the college, she had already established her own face-painting and make-up business but admitted it was not a career that she had considered while at school.
She gained a BA (Hons) Public Healthcare and later learnt English in Liverpool before taking part in exchange programmes to New York and Belgium either side of an MA Pedagogy in Poland
"I saw a face-painter at an children's party in Brussels. She was working with all the colours and making everyone happy. I thought this is such an amazing job, I want to do this job," said Anna.
Anna returned to the UK and took a one-day course with a face-painting and body art business based in Hackney to increase her product and health and safety knowledge.
"I volunteered to do some face-painting for school fairs. I began to get more and more bookings for kids' parties, office parties – it just started rolling from there. I always had a job on the side, but there came a point when I thought this is what I want to do full time."
Anna took a business class and began networking and promoting her work on social media. Through this and word of mouth she went on to gain work for corporate events, festivals, theatres, short films and music videos. She also began teaching her skills.
"When I paint something on someone's face or body and they look in the mirror and they smile, it's priceless. I'm getting paid for being creative and making people happy. I'm literally painting a smile on people faces. Even if you've turn them into a zombie, they still smile," she said.
Anna explained it was her love of working with people that turned her attention to make-up rather than working as a lone artist in a studio.
"I think I've always liked to paint on something different to paper. I remember my mum being upset when I was a child because I liked to draw on walls and different surfaces," she said.
"When you paint in a in an art studio, usually it's just you. It's the human aspect of what I do and having a living, breathing canvas that gives me the biggest satisfaction.
"I cannot teach creativity, but I can teach techniques. Like everything in life, if you practice enough you're going to do much better," said Anna.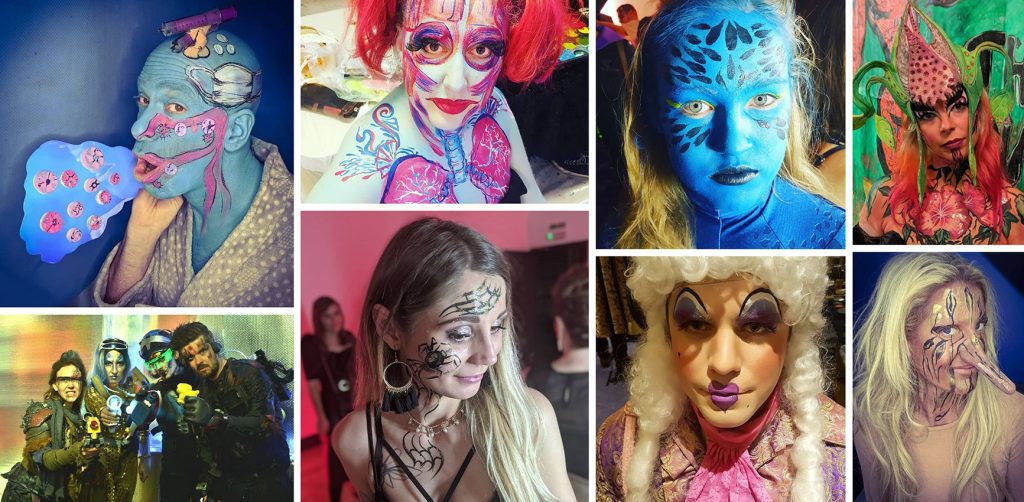 Work dried up during the COVID pandemic, but Anna continued teaching online while gaining financial help from a government scheme to provide income support for the self-employed.
She decided to enrol at CONEL to further develop her own skills, particularly in classical make-up and hair, which she had no experience or a recognised qualification in.
"I found there was the potential for more bookings if I was able to do 60s and 20s hair and make-up, and I wanted to add that to my services. The class was very diverse, so we were able to learn from each other and practise on different ages and skin colours," said Anna.
"My teacher had worked in the industry and was always giving us tips. For example, if you want to work in theatre, then you also need to know about wigs; or during demonstrations she might say, 'That's good eyeliner but the foundation is a little off.'"
Anna, who is neurodiverse, also praised her teachers and staff at CONEL for the extra help they gave her with written assignments during her studies.
While at college, Anna came first in the Student Character category of Warpaint Paintopia Makeup Competition 2022 at the United Makeup Artists Expo in Liverpool for her version of the Marvel comic character She-Hulk.
She said: "I went into the competition just wanting to add another piece to my portfolio, and was very surprised to win because I'm the kind of person who is never satisfied with my art."
Anna's achievements earned her an Excellence Award from Capital City College Group, which includes CONEL along with City and Islington College, Westminster Kingsway College and Capital City College Training.
Find out more about Hairdressing and Beauty Therapy courses and apply here.
Young sports stars at the College of Haringey, Enfield and North East London (CONEL) are celebrating after qualifying for the Association of Colleges Sport National Championships.
Teams from the college's Basketball Academy and Netball Academy will represent the capital after winning in the regional finals at Redbridge Sports Centre in Ilford on 8 December.
The basketball team won all their opening round matches to reach the knockout stages and beat Newham College in the final, while the netball team beat all teams in their competition.
Both teams are now preparing for the national tournament at the University of Nottingham in April under the training and guidance of their coaches AJ Roberts and Yamini Bist.
CONEL's Basketball Academy and Netball Academy, along with the Football Academy, Martial Arts Academy, Athletics Academy and Esports Academy are based at the college's Enfield Centre.
The academies are open to all students aged 16-18 at the college and include professional coaching, personal fitness, physiotherapy, nutrition and tactical analysis.
Jonathan Silman, Head of School for Sport, Public Services and KS4, said: "This is a fantastic achievement for our Basketball and Netball Academies. The teams and their coaches have worked exceptionally hard and shown great commitment to develop and improve their skills and performance, which has resulted in them qualifying for the National Championships.
"Our Sports Academies at CONEL continue to go from strength to strength and I am hugely proud that the college will be representing London. The basketball and netball teams and their coaches should be proud of what they have accomplished in their sports, especially the team from the Netball Academy, which only started up at the college recently.
"The National Finals will be an even bigger challenge, but if they continue to apply themselves and show the same dedication then they will give themselves every chance of success."
The AoC Sport National Championships has been running for more than 40 years and is one of the UK's largest student sporting events with nearly 1,800 students taking part each year.
Ten regional tournaments are held across England and Wales during the autumn term with the top teams in 13 sports qualifying for the National Championships.
Students compete in boccia, badminton, basketball, cross-country running, football, disability football, hockey, indoor cricket, netball, rugby, table tennis, tennis and volleyball.
CONEL's sports facilities include a floodlit 3G football pitch, grass pitches, sports centre with sports hall, fully equipped gym and changing rooms, which are also available for hire.
Find out more about CONEL's Sports Academies here.