Tag:
capital city college group
Young sports stars at the College of Haringey, Enfield and North East London (CONEL) are celebrating after qualifying for the Association of Colleges Sport National Championships.
Teams from the college's Basketball Academy and Netball Academy will represent the capital after winning in the regional finals at Redbridge Sports Centre in Ilford on 8 December.
The basketball team won all their opening round matches to reach the knockout stages and beat Newham College in the final, while the netball team beat all teams in their competition.
Both teams are now preparing for the national tournament at the University of Nottingham in April under the training and guidance of their coaches AJ Roberts and Yamini Bist.
CONEL's Basketball Academy and Netball Academy, along with the Football Academy, Martial Arts Academy, Athletics Academy and Esports Academy are based at the college's Enfield Centre.
The academies are open to all students aged 16-18 at the college and include professional coaching, personal fitness, physiotherapy, nutrition and tactical analysis.
Jonathan Silman, Head of School for Sport, Public Services and KS4, said: "This is a fantastic achievement for our Basketball and Netball Academies. The teams and their coaches have worked exceptionally hard and shown great commitment to develop and improve their skills and performance, which has resulted in them qualifying for the National Championships.
"Our Sports Academies at CONEL continue to go from strength to strength and I am hugely proud that the college will be representing London. The basketball and netball teams and their coaches should be proud of what they have accomplished in their sports, especially the team from the Netball Academy, which only started up at the college recently.
"The National Finals will be an even bigger challenge, but if they continue to apply themselves and show the same dedication then they will give themselves every chance of success."
The AoC Sport National Championships has been running for more than 40 years and is one of the UK's largest student sporting events with nearly 1,800 students taking part each year.
Ten regional tournaments are held across England and Wales during the autumn term with the top teams in 13 sports qualifying for the National Championships.
Students compete in boccia, badminton, basketball, cross-country running, football, disability football, hockey, indoor cricket, netball, rugby, table tennis, tennis and volleyball.
CONEL's sports facilities include a floodlit 3G football pitch, grass pitches, sports centre with sports hall, fully equipped gym and changing rooms, which are also available for hire.
Find out more about CONEL's Sports Academies here.
One of the UK's most influential women in Engineering and Construction has praised the high standard of teaching after studying with Capital City College Group (CCCG).
Phebe Mann, who is Chair of the Institution of Civil Engineers London for 2022-23, achieved an overall Distinction on a Plumbing Level 2 Diploma at the College of Haringey, Enfield and North East London. She also took a short course in Home Repair and Maintenance for Women at Westminster Kingsway College. 
Phebe studied both courses having already established an illustrious engineering and legal career spanning more than three decades and gaining a PhD and four Master's Degrees. 
She is a chartered engineer, chartered surveyor, chartered construction manager and a member of the Chartered Institute of Arbitrators. She was named in the Women in Engineering Society's Top 50 Women in Engineering 2018.  
She has a PhD Collaborative Design, MSc Bridge Engineering, MSc Construction Management, MA (Cantab) Computer Science, LLM Construction Law and is a qualified barrister. 
Engineering at CONEL
Engineering offers a variety of career prospects in some of today's most exciting and dynamic industries, from mechanical, chemical, civil to electrical. Our engineering courses are amongst the best in the country, with many of our students excelling on work placements, progressing to university and realising their career aspirations.
Apply for a Engineering Course
Phebe has worked as a Specialist Judge for the Upper Tribunal and General Regulatory Chamber and has completed engineering projects for Westminster City Council and Cambridge County Council, as well as being a Senior Lecturer at the University of Westminster, University of Reading, University of East London and Open University. 
Phebe decided to enrol on both courses to develop her practical construction skills and increase her awareness of the trades to enable her to better address a national shortage of workers in the UK.
She said: "The students were very enthusiastic in their learning. The lecturers were excellent and devoted to sharing the skills of their professions and we learnt a great deal from the exercises and the feedback they gave us. They also provided high-quality videos of each topic, which we could view repeatedly until we understood the requirements of the course.
"My lecturer for the plumbing practical class was very patient and empathetic to his students as he explained the steps we needed to take and the health and safety requirements for each task. He had a genuine understanding of his students and adapted his teaching to meet their individual needs."
Phebe is passionate about encouraging and inspiring more women to follow in her footsteps and pursue engineering and construction careers.
She said: "Girls tend to do better than boys in GCSE and A Level results including science, mathematics and computing. These are all important skills for engineers and construction. Women excel in skills such as good communication, innovation, creativity and analysis. They should not be intimidated by working in a male-dominated industry."
According to the Engineering UK and there is a shortfall of 173,000 workers in the STEM sector, while the Construction Skills Network says 266,000 new workers are needed by 2026
"If you are passionate about engineering, discover your potentials, seek opportunities, equip yourself, develop a positive learning attitude and be determined to be successful," said Phebe.
"Don't be discouraged by failures. Every success is built on many failures. Don't give up if you believe you can do it."
Apply now for Engineering courses here and Construction courses here.
Capital City College Group (CCCG) will be offering T Levels across its three colleges from September 2023.
Five T Levels will be available at City and Islington College (CANDI), The College of Haringey, Enfield and North East London (CONEL) and Westminster Kingsway College (WestKing).
What are T Levels?
T Levels are two-year technical courses taken as an alternative to A Levels, apprenticeships and other 16-19 courses.
A T Level is equivalent to three A levels and comprises a core component and an occupational specialism to give students skills for employment, higher education or apprenticeships.
Students spend 80 per cent of the course at college gaining the skills that employers need. The remaining 20 per cent is on industry placement where they put these skills into action.
They will spend at least 45 days in industry placements to enable them to gain valuable experience in the workplace and give employers an early sight of new talent in their industry.
Why choose a T Level
T Levels have been designed with leading employers and awarding bodies to give students the skills, knowledge and experience they need. More than 250 employers have been involved in their development to give students confidence they will take them to the next level.
What T Levels will be available?
The first T Level courses available at CCCG colleges are listed below with more expected to be added over coming months.
| T LEVEL | OCCUPATIONAL SPECIALISM | COLLEGE | CENTRE |
| --- | --- | --- | --- |
| Digital Production, Design and Development | Digital Production, Design and Development | CANDI | Centre for Business, Arts and Technology (including Health, Social and Childcare) |
| Digital Production, Design and Development | Digital Production, Design and Development | WestKing | King's Cross Centre |
| Digital Support Services | Digital Support | CANDI | Centre for Business, Arts and Technology (including Health, Social and Childcare) |
| Digital Support Services | Digital Support | WestKing | King's Cross Centre |
| Education and Childcare | Early Years Educator | CANDI | Centre for Business, Arts and Technology (including Health, Social and Childcare) |
| Education and Childcare | Early Years Educator | CONEL | Tottenham Centre |
| Health | Supporting the Adult Nursing Team | WestKing | King's Cross Centre |
| Health | Supporting the Adult Nursing Team | CONEL | Tottenham Centre |
| Health | Supporting the Mental Health Team | WestKing | King's Cross Centre |
| Health | Supporting the Mental Health Team | CONEL | Tottenham Centre |
| Science | Laboratory Sciences | CANDI | Centre for Applied Science |
Entry requirements
Entry requirements are the same as for A Levels and many other Level 3 courses, which require five GCSEs at grades 9-4 including English and maths. At least a grade 4 in GCSE Science is also required for science and health related T Levels.
Grading and certification
Students completing their T Level will receive a certificate which will show their overall grade shown as Pass, Merit, Distinction or Distinction*.
The certificate will show A*-E grades for the core component, and Pass, Merit, Distinction or Distinction* for the occupational specialism. It will also confirm they have completed the industry placement and met any other mandatory requirements
Students who do not pass all elements of their T Level will get a T Level statement of achievement that will only show the elements they have completed.
Find our more information about T Levels at CCCG and apply here.
Students shared their views on tackling racism with a black Metropolitan Police officer during a series of events at Capital City College Group (CCCG) to mark Black History Month.
Inspector Chris Excell, who has served the Met for 15 years, was among the guests invited to give talks to students at the College of Haringey, Enfield and North East London (CONEL).
Insp Excell shared his experience of being a black police officer, a brief history of black police officers in Britain and his role as the Chair of the Black Police Association at the Met.
Students at CONEL also heard from Corporal Nyerere St John who spoke about being a black soldier in the British Army and gave his advice on careers in the Armed Forces.
There were also talks and presentations on black history, the slave trade, Marie Seacole, black Olympians, black footballers, black scientists and inventors, black hair and beauty, black music and the screening of a documentary on the Windrush generation.
City and Islington College (CANDI) hosted a Chat and Chillax session where students took part in a discussion about Black History Month, what it means to them, why it is important and ways to tackle racism in society.
Students also participated in workshops where they wrote positive affirmations to promote more tolerance in society on leaf-shaped pieces of paper that were then stuck to a large picture of a 'tree of hope' for their peers to read.
Among the uplifting messages placed on the tree were 'Everyone is allowed to live freely', 'Respect each other', 'Love each other' and 'Educate ourselves and others.'
The atrium at Westminster Kingsway College's King's Cross Centre was adorned with flags from countries around the world to represent the diversity of its staff and students.
Students heard talks from guest speakers from BAME backgrounds including entrepreneur Tlwalola Ogunles, youth mentor Luke Malillah, actor and presenter Jordan Kensington, social mobility advocate Kevin Osei, property investor TJ Atkinson and WestKing administrator Lorna Blackman.
They were also encouraged to read books by black authors in the college's Learning Resource Centre including Noughts and Crosses by Malorie Blackman, Queenie by Candice Carty-Williams and Slay in Your Lane by Elizabeth Yomi Adegoke and Elizabeth Uviebinené.
There were screenings off Becoming, the documentary on life of former US First Lady Michelle Obama, and Rocks, a drama about a black teenage girl and her brother in Hackney whose mum abandons them, forcing them to try and avoid being taken into social care.
Music students also put on live performances of their own songs inspired by black music.
CCCG runs many enrichment activities across its three colleges for students personal and professional development. Find out more about Student Life at CONEL here.
With the academic year well under way, Year 11 students are now settling into their final year of school and knuckling down ahead of their GCSEs next summer.
Many will also be thinking about their future, and it is important for them to realise that staying on at school sixth form is not the only or always the best option.
Here's six fantastic reasons why they should choose the College of Haringey, Enfield and North East London (CONEL) over school when it comes to taking the next step in their education.
A bigger choice of qualifications and pathways – Whether you want to take the academic or technical route to university or employment we have the right course for you. Choose from A Levels, BTEC and City & Guilds diplomas and certificates, apprenticeships with top employers, along with our first T Levels.
A huge range of subjects – We offer A Levels with City and Islington College along with courses in accounting and business, IT, creative media, construction, childcare, engineering, hair and beauty, music and performing arts, public services, science and sport.
Students are treated like adults – There's no 'Yes Sir' or 'Yes Miss' here. Students are often on first name terms with the teachers and given the personal responsibility for getting their work assignments done. Of course, we will still encourage, motivate and support our students to succeed.
Make new friends – A chance to widen your social circle and get to know more people. The more you broaden your horizons, the more opportunities that are presented to you in work and life.
Industry experienced teachers – Many of our lecturers and tutors have worked in the fields they teach and are able to share first-hand knowledge and experience to give students the professional skills and realistic expectations of their future careers.
Fantastic enrichment and support – Students benefit from a more rounded education including trips at home and abroad, talks from industry experts, debates and workshops, competitions, community projects, sports, clubs and societies, careers advice and support with UCAS applications.
DON'T FORGET OUR OPEN DAY
Book your place at our Tottenham and Enfield Centres on Saturday 5 November from 10am to 1pm. Book a place at our Open Day here and apply for our courses and apprenticeships here.
Competitive computer gaming, known as esports, is one of the fastest growing sports globally. At the College of Haringey, Enfield and North East London (CONEL) we run esports courses and an Esports Enrichment Programme at our Enfield Centre. Here, our newly appointed esports coach Finlay Stewart shares his passion for gaming and how it can help students' education.
Tell us about your esports journey.
I graduated from university in 2015 and went straight into esports. Since then, I've worked many different jobs in the industry from sales executive to managing and coaching teams. I've worked as an esports coach for the past seven years with some of the best players and teams from around the globe and also at grassroots level. I'm very excited about our project here at CONEL.
What was your first game console and the first game you played?
I had a Nintendo Game Boy when I was around six years old. My first game was Pokémon Yellow – a classic! Soon after that I got into PlayStation and PC gaming.
What do you enjoy most about playing esports?
I enjoy the social aspect. Playing videogames is great fun on your own but even better with friends or family, especially when you're all working together towards a goal. These days I rarely play online games on my own.
Tell us about the Esports Enrichment Programme at CONEL.
The Esports Enrichment Programme brings gamers together to play, train and have fun. At the college's Enfield centre, students have access to 20 powerful gaming rigs and compete against gamers from other schools and colleges in the British Esports Student Champs competition each week. Games include Valorant, League of Legends, FIFA and Rocket League. For the past three years the college team, CONEL Cyphers, have been consistently placed in the top four teams in the country.
Join the Esports Academy!
Join up with CONEL Cyphers, CONEL's official esports team, and compete with other students against colleges from around the country. If you're not a competitive person, feel free to join up to meet like-minded people and make new friends!
Find out more
What skills can you gain playing esports that will benefit your education and career?
Playing in an esports team teaches you many things. First off, it develops your leadership and teamworking skills. It also improves your hand-eye coordination, ability to multitask and your IT, communication and problem-solving skills, to name just a few.
How do you coach someone to be a better gamer?
The way to coach people to be better gamers is the same way you would teach or coach them to do anything really. You find their current level and from there identify their strengths and weaknesses. Teach them to focus on their strengths and work on minimising where they are weak. Show them what they are doing wrong and give them additional areas to work on. The get them to watch back their mistakes and analyse them.
Is gaming still very much a male domain?
It depends on the game in question. Different games have different demographics. For example, mobile gaming is pretty much 50-50 between male and females. Console and PC games are still very male dominated, but some games like Valorant have a huge female player base.
Tell us about the esports courses available at CONEL!
CONEL offers one and two-year esports diploma courses at Level 2 and Level 3, the equivalent of three A Levels, endorsed by the British Esports Association. The courses cover streaming games, tournaments, event planning, game design, video production, coaching and entrepreneurship.
What job opportunities are out there if you become a competent gamer?
The esports industry is expanding at a huge rate and there are many different jobs and roles within the industry. On professional teams you have the pro-players, managers, analysts and coaches, but there are also backroom roles in marketing, sales, HR, merchandising, IT and media.
What do you think of the decision not to include esports in the Commonwealth Games?
It's disappointing as it had the potential to really raise the profile of esports. I'd like to see it recognised in the Olympic or Commonwealth Games as an actual medal sport. Like any other supports it requires skill, training and commitment to be the best.
What are the side effects of too much gaming and how do you prevent them?
Too much excess of anything is never good. In gaming it can lead to back, neck and wrist problems. The other issues such as headaches are more short term and easier to fix. In general, just don't overdo it. Take breaks, drink lots of water and eat healthily.
What is a healthy amount of time to spend gaming each week?
I wouldn't say that there's a hard limit to the amount of time you spend gaming as long as you are able to meet all your other commitments, get a good eight hours' sleep, eat well and stay healthy. When it starts to take precedence over everything else, I'd say that's when it becomes an issue.
What is your best advice on how to become a top esports player?
Play the game. Watch professional players and learn from what they do. At the end of the day, it just comes down to playing more and having the right attitude. Look at your own mistakes and don't make excuses or blame others. And enrol at CONEL of course!
Find out more about esports courses at CONEL here.
Follow the CONEL Cyphers on Twitter @CONELesports here.
Colleges Week is a celebration of students, staff and skills from 17-21 October #LoveOurColleges
A student has launched his own news and current affairs podcast after studying a free short course at the College of Haringey, Enfield and North East London (CONEL).
Hamse Abdilahi set up the The Aliberg Podcast Show as part of his own news website The Ailberg Post after taking an Introduction to Producing Radio Broadcasting course in March.
While studying the course, Hamse secured a grant from Collins Educational Trust in Frome, Somerset, to enable him to purchase a RØDECaster Pro to record his podcast.
So far he has recorded podcasts on How COVID Has Changed Our Public Poilcy Making, My Take on Britain's Worsening Economic Crisis and Five Lessons Learned from the End of the Elizabethan Era.
FREE short courses at CONEL
Whether you want to move up in your career, retrain for a new job, try something new, or simply develop your skills in a subject you are interested in, we have the course for you!
Apply for a Free Short Course
Hamse, who was lives in Southwark, previously studied for a MSc Public Policy at the University of Bristol and later an MSc Sustainable Urban Development at Oxford.
He said: "I have always had a passion for media, even though I never studied journalism at college. It has been a gradual realisation that I should have a career shift to media. The podcast show is my first step, but I hope to have greater media involvement going forward."
Hamse, who has written numerous news and feature articles including a piece for the Times Educational Supplement on what he learnt from applying to Oxbridge, recently started a Digital Content and Creation free short course at CONEL to further develop his media skills.
"I really enjoyed the radio and podcasting course for two reasons. It was first a short course, which is what I wanted, and secondly, it was both theoretical and practical," said Hamse.
"The college has a podcast recording studio and was where I first learned how to create a podcast using a RØDECaster Pro, and now I've got out of my own. I like the freedom of having my podcast at home and being able to discuss a chosen topic at any time and get my voice heard."
CONEL offers a wide range of Free Short Courses in various subjects throughout the year with many students taking these courses going on to full-time study. Find out more and book a place here.
Find out more about Digital Media and Creative Computing courses and apply here.
Hundreds of newly enrolled students found out more about college life and the wealth of other support available to them at Freshers Fairs across Capital City College Group (CCCG).
City and Islington College (CANDI), Westminster Kingsway College (WestKing) and the College of Haringey, Enfield and North East London (CONEL) all hosted welcome events.
CANDI held a combined fair for students enrolled at its Sixth Form College and Centre for Applied Science along with fairs its Centre for Business, Art and Technology and Centre for Lifelong Learning.
A 'Welcome Fest' was held at the WestKing's King's Cross Centre and another fair took place at the college's Soho Centre, and Michelin-star chef Michel Roux welcomed Hospitality and Culinary Arts students to the college's Victoria Centre.
Among the organisations attending the CANDI and WestKing fairs this year were IMECE, Papyrus, Octopus Communities. Islington Youth Council, NHS, All Change, Lift, Step into Dance, Kooth, We Speak, Brook, Go-Forward Youth, Flint & Flame, The Caterer, Koppert Cress, Compass Group, Arts Emergency and the Craft Guild of Chefs.
CONEL's Tottenham and Enfield Centres hosted fairs, which included stands from Let's Talk IAPT, National Citizen Service, Tottenham Hotspur Foundation, Metropolitan Police, Proud North London, Pirate.com, Reed Wellbeing, ReachOut, The Rebel School, Pure Gym and Terrence Higgins Trust.
We want to enrich our students' lives with more than just qualifications. Our aim is to help them develop a broad range of skills and qualities that employers look for, including communication, teamwork and problem-solving, as as well as ensuring they have a great time at college.
Throughout each year CCCG's colleges run a range of enrichment and extracurricular activities to give them greater insight into their studies and future careers and to support their health and wellbeing, including trips, guest speakers, sports, clubs and societies.
Students can get to know their peers through a range of student-run activities including our Student Equality, Diversity and Inclusion Committee, Learner Voice, or college clubs and societies – from football and table tennis to debating and a poetry club.
Students can volunteer to become a Student Ambassador, study buddy or a peer mentor. These important roles help our students develop their confidence and interpersonal skills and look really good on a CV, job application or university application.
Our centres have on-site canteens and cafés, serving a daily menu that includes healthy options. Canteen meals are great value for money and are a good opportunity to relax with friends between lessons. All of our centres have libraries and some have on-site gyms, so you can keep your body fit as well as your mind.
Find out more about Student Life here.
Capital City College Group (CCCG) has launched a new range of free short courses in logistics across its colleges to fill a massive skills gap in the logistics industry.
According to Logistics UK, around 2.6 million people are employed at more than 200,000 businesses across the sector, which contributes £127 billion to the economy each year.
However, more than 1.2 million workers are needed over the next decade, in roles from transportation and warehousing to higher level positions in strategic planning and supply chain management.
CCCG has teamed up with training consultancy Skills for Logistics to become one of the first education providers in England to offer courses specifically for careers in logistics.
Places can be booked online under Free Short Courses on the City and Islington College, Westminster Kingsway College and the College of Haringey, Enfield and North East London websites.
Logistics is one of the fastest growing industries in the UK but has been hampered by Brexit, COVID-19, existing skills shortages and limited training opportunities.
Demand has grown for jobs including HGV drivers, delivery managers, transport planners, project managers, client relationship managers, data analysts and business support roles in finance and procurement.
In a six-month period from October 2021 to March 2022 more than 30,000 logistics job vacancies were advertised in London with an average salary of £37,800 a year. These included opportunities with large employers such as NHS, Amazon and First Choice, along with positions advertised by employment agencies like Reed, Hays and Michael Page.
The following courses are available right now in class or online.
An Introduction to Logistics
An Introduction to Modes of Transportation for Logistics
An Introduction to Supply Chain Logistics
An Introduction to Freight Forwarding
An Introduction to Importing and Exporting Goods Legislation
The Highway Code for HGV drivers
HGV Theory Test Preparation
An Introduction to Business Improvement Techniques
Level 3 Award in International Supply Chain Logistics.
The courses were devised with Skills for Logistics, which works with employers to support their training needs and create a pipeline of skilled workers for the logistics industry.
Carl Boyd, Head of School for Logistics at CCCG, said: "Logistics is one the largest industries in the UK and it needs more skilled and qualified staff. At CCCG, we already have an excellent track record in running warehousing and forklift truck driving programmes that lead to employment.
"With the support of Skills for Logistics we've recognised the wider need of the logistics industry, particularly in outer north London, where there are many haulage companies and warehousing facilities serving the capital, offering fantastic opportunities for training and employment."
David Coombes, CEO of Skills for Logistics, said: "We're delighted to be working closely with CCCG to develop its logistics curriculum, which will see its colleges become among the first in Further Education o specialise in delivering future skills to support the rapidly growing UK logistics sector that underpins the UK economy.
"There has not been a better time to develop future talent for a sector that requires a wide variety of skills such as digital, technical, engineering, problem solving, AI and automation, while creating long-term job security in well-paid jobs with excellent career progression."
Find out more about our logistics courses and book a place here.
Logistics firms are invited to have their say recruitment, training and development in the sector at the launch of CCCG and Skills for Logistics' Employer Advisory Board at Westminster Kingsway College's Victoria Centre on Wednesday 19 October at 1pm. For more information contact Carl Boyd, Head of School for Logistics at CCCG, at carl.boyd@conel.ac.uk
Students and apprentices celebrated a year of outstanding achievements at the first Capital City College Group (CCCG) Excellence Awards.
Around 60 awards were presented to learners in recognition of their hard work, commitment and success over the past year at a glittering ceremony at Tobacco Dock in east London.
Students from City and Islington College (CANDI), Westminster Kingsway College (WestKing) and the College of Haringey, Enfield and North East London (CONEL), and apprenticeship and training provider Capital City College Training (CCCT) all received awards.
Awards were also presented to participants of entrepreneurship programme Visionnaires, which started within CCCG in 2019, and 01 Founders, a coding school launched with CCCG in 2021.
Organisations that work with CCCG were also honoured. Arsenal in the Community received a Community Recognition Award while Nominet and Building Heroes/Regal London were handed Employer Partner Awards.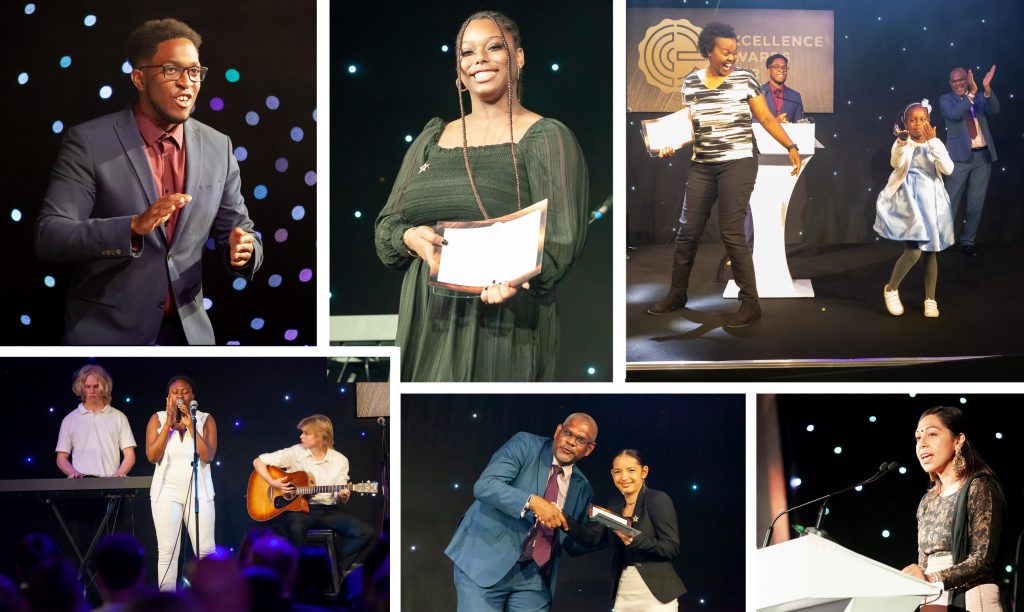 The ceremony was compèred by Kamal Ellis-Hyman, Founder and Director of Aim A Little Higher, which runs personal development programmes for young people across the UK.
Alastair Da Costa, Chair of CCCG, welcomed the award winners and their families and presented the awards along with Jasbir Sondhi, Vice Principal of WestKing, and David Dangana, Director of Group Quality and Compliance.
He said: "Excellence is hard work realised. It takes dedication, perseverance, overcoming frustrations and doubts. Realising excellence requires support from friends and family, it requires picking up when you are down, and it is right to celebrate achievement and success with friends and loved ones.
"This evening, I want to thank you all for being excellent, whether you win an award, are supporting those who win an award or whether you have taught and helped those in this room to realise their potential."
Awards were presented to students from across CCCG's provision including many who had achieved success at college and overcome major challenges during their studies.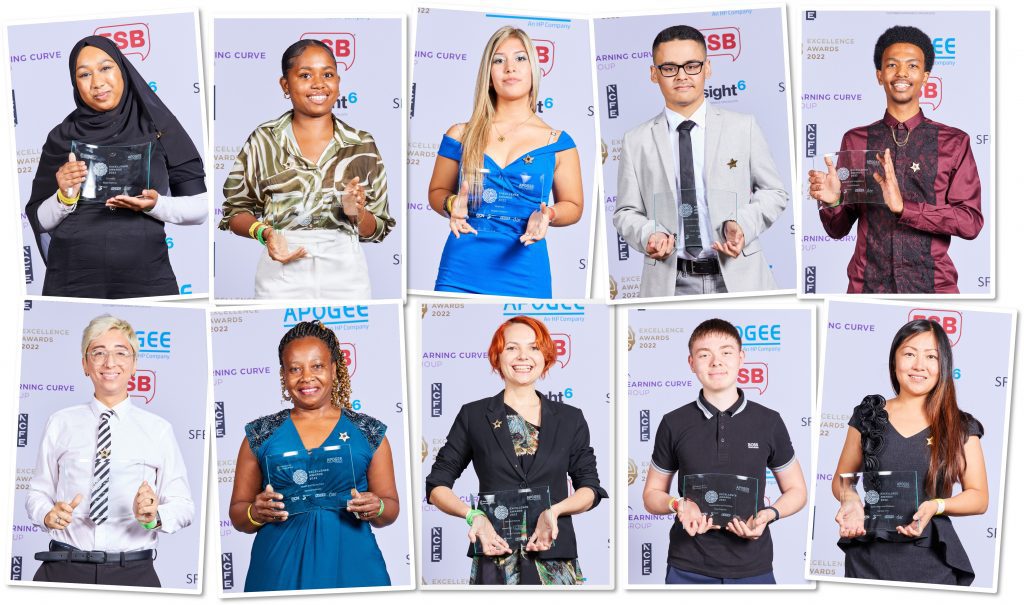 Among the award winners was Vivek Quissor who gained a triple-starred Distinction in his Public Services diploma at CANDI and was praised for the quality of his well-researched assignments and being an inspiration to other students.
Vivek, 18, who is now studying for a BA (Hons) Criminology and Criminal Justice at the University of Greenwich, said: "My lecturers provided an outstanding level of teaching throughout the length of my course. I credit my success to them. They left no stone unturned when it came to making sure that assignment work was completed to the highest of standards."
Also picking up an award was Mariana Ghertan who completed her Healthcare Support Worker apprenticeship with CCCT despite catching COVID twice and suffering family bereavement.
Mariana, 36, said: "My tutor was the most incredible support. She encouraged me not to give up and offered me more time. I spoke to my husband and sons who had seen how much hard work I had put in. They said that my mum was proud of me and would have wanted me to finish, so I did."
Tyler Minter, 24, wanted to start a Rail Engineering apprenticeship with Alstom and CONEL after learning he was to become a dad. He was described by his tutors as "an exceptional student" who produces a high standard of work and is a perfect role model to his peers.
He said: "I love the fact that I'm learning while also getting hands on experience. I'm gaining knowledge that is vital to the job and also putting it to use in a practical sense. I'm also not getting into debt like a lot of people who go to university do, and I'm earning a good salary."
The final award of the night was the CCCG Inspiration Award, which was presented to CANDI Art and Design diploma student Georgiana Guias, who was praised by her teachers for her dedication, intelligence and enthusiasm, as well as her support for her peers.
Georgiana, 18, who is now studying a BA (Hons) Architecture at Central Saint Martins, said: "It's a big surprise to get this award because everybody on the course worked hard. The course was challenging but I got to learn new skills and techniques and the teachers were friendly and supportive of me and other students."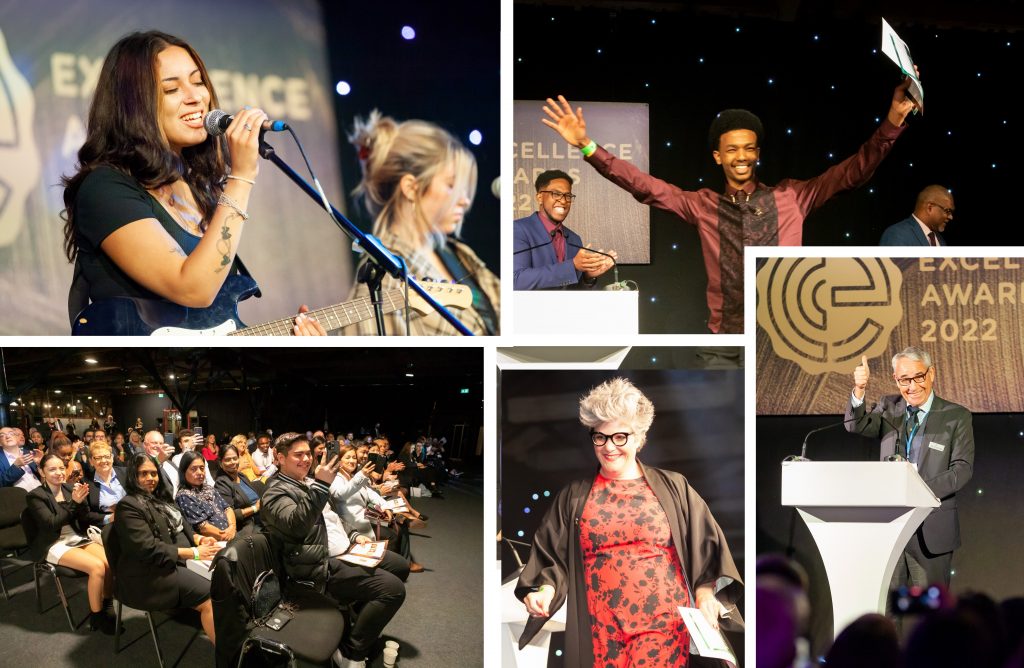 The ceremony also featured live performances by Music Performance and Production students from CANDI and WestKing.
CANDI students Beth Cook, 18, Gloria Elubode, 17, and Ralph Heywood, 17, performed their own composition entitled Faith and Strength is the Key.
WestKing students Gabi Reece, 18, and Isabelle Linehan, 17, together known as The Park, performed their own work called She'll Stay.
Hospitality and Culinary Arts students from WestKing served canapés at the event with front of house service run by WestKing's Travel and Tourism students and CONEL's Public Service students.
The ceremony was sponsored by Apogee, NCFE, OCN London, Gateway Qualifications, Dar Group, insight6, Learning Curve Group, Candor Professional Beauty Academy, ESB, GLL, SFEDI Group and 3Drakes.
Roy O'Shaughnessy, CEO of CCCG, described the evening as "absolutely incredible and inspiring" as he congratulated the award winners, staff, sponsors and organisers of the event.
He said: "I want to congratulate our staff, students, their families and friends and thank them for making this evening such a wonderful success. It is such a privilege to look around this room and see students, teachers and staff from across the Group, sitting here today and celebrating the hard work of those that we've honoured, so really, truly well done.
"We wouldn't have been here without our sponsors, and I would like to thank them on behalf of our staff, students, staff and governors. Your work means that at CCCG we not only can offer courses and programmes, but we are able to work with employers to give opportunities for our students to create the future for London."
Find out more about our wide range of courses and apprenticeships here.