Anna Formela's talent as a professional make-up artist, face and body painter has seen her work on everything from children's parties to music videos.
Her artistic flair has seen her create many spectacular colourful and vibrant designs on themes of animals, sci-fi, beauty and horror to more avant-garde and abstract imagery.
Anna, 38, who is from Poland, successfully completed a Hair and Media Make-up Level 2 Diploma at the College of Haringey, Enfield and North East London (CONEL) in July.
Prior to studying at the college, she had already established her own face-painting and make-up business but admitted it was not a career that she had considered while at school.
She gained a BA (Hons) Public Healthcare and later learnt English in Liverpool before taking part in exchange programmes to New York and Belgium either side of an MA Pedagogy in Poland
"I saw a face-painter at an children's party in Brussels. She was working with all the colours and making everyone happy. I thought this is such an amazing job, I want to do this job," said Anna.
Anna returned to the UK and took a one-day course with a face-painting and body art business based in Hackney to increase her product and health and safety knowledge.
"I volunteered to do some face-painting for school fairs. I began to get more and more bookings for kids' parties, office parties – it just started rolling from there. I always had a job on the side, but there came a point when I thought this is what I want to do full time."
Anna took a business class and began networking and promoting her work on social media. Through this and word of mouth she went on to gain work for corporate events, festivals, theatres, short films and music videos. She also began teaching her skills.
"When I paint something on someone's face or body and they look in the mirror and they smile, it's priceless. I'm getting paid for being creative and making people happy. I'm literally painting a smile on people faces. Even if you've turn them into a zombie, they still smile," she said.
Anna explained it was her love of working with people that turned her attention to make-up rather than working as a lone artist in a studio.
"I think I've always liked to paint on something different to paper. I remember my mum being upset when I was a child because I liked to draw on walls and different surfaces," she said.
"When you paint in a in an art studio, usually it's just you. It's the human aspect of what I do and having a living, breathing canvas that gives me the biggest satisfaction.
"I cannot teach creativity, but I can teach techniques. Like everything in life, if you practice enough you're going to do much better," said Anna.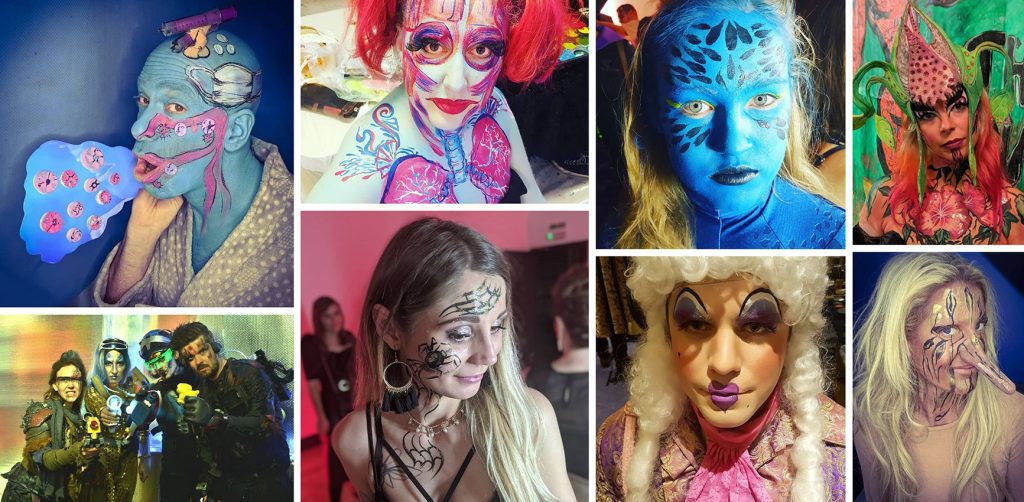 Work dried up during the COVID pandemic, but Anna continued teaching online while gaining financial help from a government scheme to provide income support for the self-employed.
She decided to enrol at CONEL to further develop her own skills, particularly in classical make-up and hair, which she had no experience or a recognised qualification in.
"I found there was the potential for more bookings if I was able to do 60s and 20s hair and make-up, and I wanted to add that to my services. The class was very diverse, so we were able to learn from each other and practise on different ages and skin colours," said Anna.
"My teacher had worked in the industry and was always giving us tips. For example, if you want to work in theatre, then you also need to know about wigs; or during demonstrations she might say, 'That's good eyeliner but the foundation is a little off.'"
Anna, who is neurodiverse, also praised her teachers and staff at CONEL for the extra help they gave her with written assignments during her studies.
While at college, Anna came first in the Student Character category of Warpaint Paintopia Makeup Competition 2022 at the United Makeup Artists Expo in Liverpool for her version of the Marvel comic character She-Hulk.
She said: "I went into the competition just wanting to add another piece to my portfolio, and was very surprised to win because I'm the kind of person who is never satisfied with my art."
Anna's achievements earned her an Excellence Award from Capital City College Group, which includes CONEL along with City and Islington College, Westminster Kingsway College and Capital City College Training.
Find out more about Hairdressing and Beauty Therapy courses and apply here.
Competitive computer gaming, known as esports, is one of the fastest growing sports globally. At the College of Haringey, Enfield and North East London (CONEL) we run esports courses and an Esports Enrichment Programme at our Enfield Centre. Here, our newly appointed esports coach Finlay Stewart shares his passion for gaming and how it can help students' education.
Tell us about your esports journey.
I graduated from university in 2015 and went straight into esports. Since then, I've worked many different jobs in the industry from sales executive to managing and coaching teams. I've worked as an esports coach for the past seven years with some of the best players and teams from around the globe and also at grassroots level. I'm very excited about our project here at CONEL.
What was your first game console and the first game you played?
I had a Nintendo Game Boy when I was around six years old. My first game was Pokémon Yellow – a classic! Soon after that I got into PlayStation and PC gaming.
What do you enjoy most about playing esports?
I enjoy the social aspect. Playing videogames is great fun on your own but even better with friends or family, especially when you're all working together towards a goal. These days I rarely play online games on my own.
Tell us about the Esports Enrichment Programme at CONEL.
The Esports Enrichment Programme brings gamers together to play, train and have fun. At the college's Enfield centre, students have access to 20 powerful gaming rigs and compete against gamers from other schools and colleges in the British Esports Student Champs competition each week. Games include Valorant, League of Legends, FIFA and Rocket League. For the past three years the college team, CONEL Cyphers, have been consistently placed in the top four teams in the country.
Join the Esports Academy!
Join up with CONEL Cyphers, CONEL's official esports team, and compete with other students against colleges from around the country. If you're not a competitive person, feel free to join up to meet like-minded people and make new friends!
Find out more
What skills can you gain playing esports that will benefit your education and career?
Playing in an esports team teaches you many things. First off, it develops your leadership and teamworking skills. It also improves your hand-eye coordination, ability to multitask and your IT, communication and problem-solving skills, to name just a few.
How do you coach someone to be a better gamer?
The way to coach people to be better gamers is the same way you would teach or coach them to do anything really. You find their current level and from there identify their strengths and weaknesses. Teach them to focus on their strengths and work on minimising where they are weak. Show them what they are doing wrong and give them additional areas to work on. The get them to watch back their mistakes and analyse them.
Is gaming still very much a male domain?
It depends on the game in question. Different games have different demographics. For example, mobile gaming is pretty much 50-50 between male and females. Console and PC games are still very male dominated, but some games like Valorant have a huge female player base.
Tell us about the esports courses available at CONEL!
CONEL offers one and two-year esports diploma courses at Level 2 and Level 3, the equivalent of three A Levels, endorsed by the British Esports Association. The courses cover streaming games, tournaments, event planning, game design, video production, coaching and entrepreneurship.
What job opportunities are out there if you become a competent gamer?
The esports industry is expanding at a huge rate and there are many different jobs and roles within the industry. On professional teams you have the pro-players, managers, analysts and coaches, but there are also backroom roles in marketing, sales, HR, merchandising, IT and media.
What do you think of the decision not to include esports in the Commonwealth Games?
It's disappointing as it had the potential to really raise the profile of esports. I'd like to see it recognised in the Olympic or Commonwealth Games as an actual medal sport. Like any other supports it requires skill, training and commitment to be the best.
What are the side effects of too much gaming and how do you prevent them?
Too much excess of anything is never good. In gaming it can lead to back, neck and wrist problems. The other issues such as headaches are more short term and easier to fix. In general, just don't overdo it. Take breaks, drink lots of water and eat healthily.
What is a healthy amount of time to spend gaming each week?
I wouldn't say that there's a hard limit to the amount of time you spend gaming as long as you are able to meet all your other commitments, get a good eight hours' sleep, eat well and stay healthy. When it starts to take precedence over everything else, I'd say that's when it becomes an issue.
What is your best advice on how to become a top esports player?
Play the game. Watch professional players and learn from what they do. At the end of the day, it just comes down to playing more and having the right attitude. Look at your own mistakes and don't make excuses or blame others. And enrol at CONEL of course!
Find out more about esports courses at CONEL here.
Follow the CONEL Cyphers on Twitter @CONELesports here.
A student with autism at the College of Haringey, Enfield and North East London (CONEL) has shared his excitement at getting a place at university this September.
Chinwoke Edeh, 24, from Tottenham, has an offer to study a Foundation Degree in Media at Middlesex University when he completes his Creative Media Production Level 3 Diploma.
He said: "I'm really excited to be going to university and looking forward to the foundation course in media. It will give me even more independence and improve me as a person as well. I'm very proud of myself and happy with the progress I'm making towards my future career."
Chinwoke experiences daily challenges with language and communication, literacy and numeracy, but has made huge progress and grown significantly in confidence since he started at CONEL in 2017.
"Sometimes when I'm asked to do things for the first time, I have to write it down step-by-step in order, so I get the hang of doing it. The college has really helped me complete the tasks to the best of my ability," he said.
Chinwoke has completed Media diplomas at Levels 1-2, having previously been part of the college's Supported Learning provision for young people with Special Educational Needs and Disabilities (SEND). During this time, he also studied English and maths courses to help him gain independence and work skills.
"I've always been very creative, firstly with pictures and then I got interested how to use Adobe. I like it because you get to express yourself and bring out your ideas and personality," he said.
"The teaching I have had at college has been excellent. The teachers were really supportive and helped me with any areas I needed to improve. They were always around when I needed them."
Over the past two years Chinwoke has been supported by Additional Learning Support Assistant Sandra Fox, who is also neurodivergent with dyspraxia and dyslexia.
She said: "Since I've been working with Chinwoke, he's excelled to the extent he is now at Level 3 and done amazingly well at college to get a place at university.
"He will still need help, but each year he's been moving away from support and working more independently. To go from SEND to mainstream is incredible. It's been a remarkable journey and I'm so proud of him, but most importantly he is proud of himself."
Tamara Lesniewska, Curriculum Manager for Creative and Digital Media, was also in awe of Chinwoke's accomplishments during his time at CONEL.
She said: "Chinwoke is a really wonderful student to teach. I'm immensely proud of him and the high standard and quality of work he has produced at college. What he has achieved from when he started to where he is now with a university offer, is nothing short of fantastic."
CONEL is committed to providing adjustments to ensure that everyone can succeed with us. If you, or your or your child, has a learning disability, we will provide an exceptional learning experience, understand that your needs are unique andl provide support that is most appropriate for you.
Find out more about CONEL's Supported Learning provision here and how to apply for Creative Media Production courses here.