Anna Formela's talent as a professional make-up artist, face and body painter has seen her work on everything from children's parties to music videos.
Her artistic flair has seen her create many spectacular colourful and vibrant designs on themes of animals, sci-fi, beauty and horror to more avant-garde and abstract imagery.
Anna, 38, who is from Poland, successfully completed a Hair and Media Make-up Level 2 Diploma at the College of Haringey, Enfield and North East London (CONEL) in July.
Prior to studying at the college, she had already established her own face-painting and make-up business but admitted it was not a career that she had considered while at school.
She gained a BA (Hons) Public Healthcare and later learnt English in Liverpool before taking part in exchange programmes to New York and Belgium either side of an MA Pedagogy in Poland
"I saw a face-painter at an children's party in Brussels. She was working with all the colours and making everyone happy. I thought this is such an amazing job, I want to do this job," said Anna.
Anna returned to the UK and took a one-day course with a face-painting and body art business based in Hackney to increase her product and health and safety knowledge.
"I volunteered to do some face-painting for school fairs. I began to get more and more bookings for kids' parties, office parties – it just started rolling from there. I always had a job on the side, but there came a point when I thought this is what I want to do full time."
Anna took a business class and began networking and promoting her work on social media. Through this and word of mouth she went on to gain work for corporate events, festivals, theatres, short films and music videos. She also began teaching her skills.
"When I paint something on someone's face or body and they look in the mirror and they smile, it's priceless. I'm getting paid for being creative and making people happy. I'm literally painting a smile on people faces. Even if you've turn them into a zombie, they still smile," she said.
Anna explained it was her love of working with people that turned her attention to make-up rather than working as a lone artist in a studio.
"I think I've always liked to paint on something different to paper. I remember my mum being upset when I was a child because I liked to draw on walls and different surfaces," she said.
"When you paint in a in an art studio, usually it's just you. It's the human aspect of what I do and having a living, breathing canvas that gives me the biggest satisfaction.
"I cannot teach creativity, but I can teach techniques. Like everything in life, if you practice enough you're going to do much better," said Anna.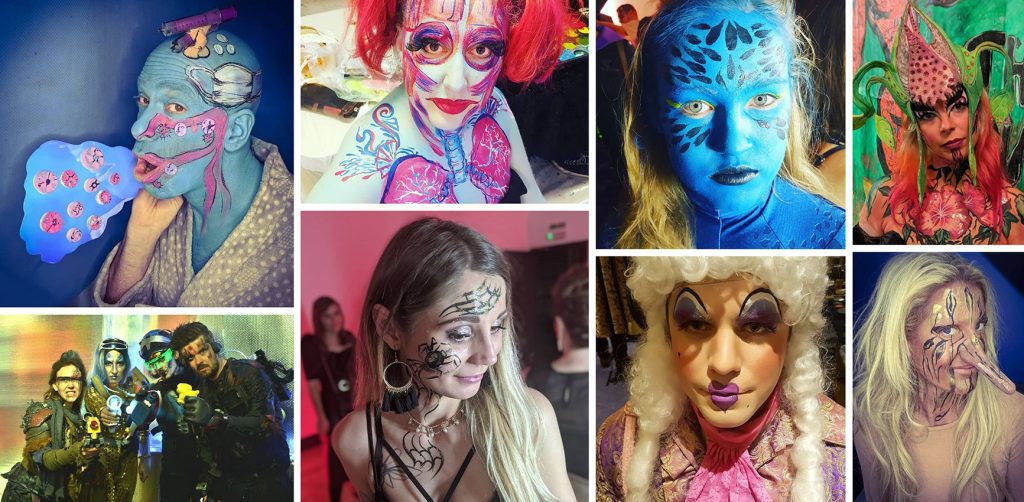 Work dried up during the COVID pandemic, but Anna continued teaching online while gaining financial help from a government scheme to provide income support for the self-employed.
She decided to enrol at CONEL to further develop her own skills, particularly in classical make-up and hair, which she had no experience or a recognised qualification in.
"I found there was the potential for more bookings if I was able to do 60s and 20s hair and make-up, and I wanted to add that to my services. The class was very diverse, so we were able to learn from each other and practise on different ages and skin colours," said Anna.
"My teacher had worked in the industry and was always giving us tips. For example, if you want to work in theatre, then you also need to know about wigs; or during demonstrations she might say, 'That's good eyeliner but the foundation is a little off.'"
Anna, who is neurodiverse, also praised her teachers and staff at CONEL for the extra help they gave her with written assignments during her studies.
While at college, Anna came first in the Student Character category of Warpaint Paintopia Makeup Competition 2022 at the United Makeup Artists Expo in Liverpool for her version of the Marvel comic character She-Hulk.
She said: "I went into the competition just wanting to add another piece to my portfolio, and was very surprised to win because I'm the kind of person who is never satisfied with my art."
Anna's achievements earned her an Excellence Award from Capital City College Group, which includes CONEL along with City and Islington College, Westminster Kingsway College and Capital City College Training.
Find out more about Hairdressing and Beauty Therapy courses and apply here.
Young sports stars at the College of Haringey, Enfield and North East London (CONEL) are celebrating after qualifying for the Association of Colleges Sport National Championships.
Teams from the college's Basketball Academy and Netball Academy will represent the capital after winning in the regional finals at Redbridge Sports Centre in Ilford on 8 December.
The basketball team won all their opening round matches to reach the knockout stages and beat Newham College in the final, while the netball team beat all teams in their competition.
Both teams are now preparing for the national tournament at the University of Nottingham in April under the training and guidance of their coaches AJ Roberts and Yamini Bist.
CONEL's Basketball Academy and Netball Academy, along with the Football Academy, Martial Arts Academy, Athletics Academy and Esports Academy are based at the college's Enfield Centre.
The academies are open to all students aged 16-18 at the college and include professional coaching, personal fitness, physiotherapy, nutrition and tactical analysis.
Jonathan Silman, Head of School for Sport, Public Services and KS4, said: "This is a fantastic achievement for our Basketball and Netball Academies. The teams and their coaches have worked exceptionally hard and shown great commitment to develop and improve their skills and performance, which has resulted in them qualifying for the National Championships.
"Our Sports Academies at CONEL continue to go from strength to strength and I am hugely proud that the college will be representing London. The basketball and netball teams and their coaches should be proud of what they have accomplished in their sports, especially the team from the Netball Academy, which only started up at the college recently.
"The National Finals will be an even bigger challenge, but if they continue to apply themselves and show the same dedication then they will give themselves every chance of success."
The AoC Sport National Championships has been running for more than 40 years and is one of the UK's largest student sporting events with nearly 1,800 students taking part each year.
Ten regional tournaments are held across England and Wales during the autumn term with the top teams in 13 sports qualifying for the National Championships.
Students compete in boccia, badminton, basketball, cross-country running, football, disability football, hockey, indoor cricket, netball, rugby, table tennis, tennis and volleyball.
CONEL's sports facilities include a floodlit 3G football pitch, grass pitches, sports centre with sports hall, fully equipped gym and changing rooms, which are also available for hire.
Find out more about CONEL's Sports Academies here.
One of the UK's most influential women in Engineering and Construction has praised the high standard of teaching after studying with Capital City College Group (CCCG).
Phebe Mann, who is Chair of the Institution of Civil Engineers London for 2022-23, achieved an overall Distinction on a Plumbing Level 2 Diploma at the College of Haringey, Enfield and North East London. She also took a short course in Home Repair and Maintenance for Women at Westminster Kingsway College. 
Phebe studied both courses having already established an illustrious engineering and legal career spanning more than three decades and gaining a PhD and four Master's Degrees. 
She is a chartered engineer, chartered surveyor, chartered construction manager and a member of the Chartered Institute of Arbitrators. She was named in the Women in Engineering Society's Top 50 Women in Engineering 2018.  
She has a PhD Collaborative Design, MSc Bridge Engineering, MSc Construction Management, MA (Cantab) Computer Science, LLM Construction Law and is a qualified barrister. 
Engineering at CONEL
Engineering offers a variety of career prospects in some of today's most exciting and dynamic industries, from mechanical, chemical, civil to electrical. Our engineering courses are amongst the best in the country, with many of our students excelling on work placements, progressing to university and realising their career aspirations.
Apply for a Engineering Course
Phebe has worked as a Specialist Judge for the Upper Tribunal and General Regulatory Chamber and has completed engineering projects for Westminster City Council and Cambridge County Council, as well as being a Senior Lecturer at the University of Westminster, University of Reading, University of East London and Open University. 
Phebe decided to enrol on both courses to develop her practical construction skills and increase her awareness of the trades to enable her to better address a national shortage of workers in the UK.
She said: "The students were very enthusiastic in their learning. The lecturers were excellent and devoted to sharing the skills of their professions and we learnt a great deal from the exercises and the feedback they gave us. They also provided high-quality videos of each topic, which we could view repeatedly until we understood the requirements of the course.
"My lecturer for the plumbing practical class was very patient and empathetic to his students as he explained the steps we needed to take and the health and safety requirements for each task. He had a genuine understanding of his students and adapted his teaching to meet their individual needs."
Phebe is passionate about encouraging and inspiring more women to follow in her footsteps and pursue engineering and construction careers.
She said: "Girls tend to do better than boys in GCSE and A Level results including science, mathematics and computing. These are all important skills for engineers and construction. Women excel in skills such as good communication, innovation, creativity and analysis. They should not be intimidated by working in a male-dominated industry."
According to the Engineering UK and there is a shortfall of 173,000 workers in the STEM sector, while the Construction Skills Network says 266,000 new workers are needed by 2026
"If you are passionate about engineering, discover your potentials, seek opportunities, equip yourself, develop a positive learning attitude and be determined to be successful," said Phebe.
"Don't be discouraged by failures. Every success is built on many failures. Don't give up if you believe you can do it."
Apply now for Engineering courses here and Construction courses here.
At the College of Haringey, Enfield and North East London (CONEL) we believe the cost of living should not come at the cost of your education and job prospects.
That's why we run FREE short courses throughout the year to enable you to develop new and existing skills for your future regardless of your age or income.
Cost is one of the main barriers to learning and times are extremely tough at the moment, but there has never been a better time to learn or try something new.
Thousands of people have signed up for our FREE short courses since we started running them in 2018 and many have progressed on to full-time study with us.
And what's more, all our full-time courses up to Level 2 and some at Level 3 are also completely FREE.
Tim Mansfield, 41, took a FREE short course in plumbing followed by a Plumbing Level 2 Diploma after working in the printing trade for more than two decades.
He said: "CONEL's free short courses were exactly what I needed. They gave me the opportunity to try different trades without having to overcommit until I knew what I wanted to pursue more seriously. If they hadn't been free, I'm not sure I would have taken the chance.
"The teachers are well-qualified and approachable, and always on hand with advice and support. I've made some great friends at CONEL and learnt some great skills that I fully intend to build upon in my future career. I'm excited about starting a new chapter."
Our FREE short courses are run at our centres and online, in a wide range of subjects:
Find out more by searching FREE short courses and book a place at CONEL.
Book now for our Open Days at our Tottenham and Enfield Centres on Saturday 5 November from 10am to 1pm.
When Tyler Minter became a dad in March last year he was keen to find a career that offered job security for the future. He explains how a Rail Engineering apprenticeship with Alstom and the College of Haringey, Enfield and North East London (CONEL) has put him on the right line for a successful career.
Tyler Minter has endured many sleepless nights during his Rail Engineering apprenticeship.
But it's not understanding the technical training or the thought of assignment deadlines that are keeping him awake, it's being the proud dad of an 18-month-old baby girl.
Tyler, 24, worked briefly as a machinist for an engineering company after college before enrolling on a BEng (Hons) Aeronautics and Astronautics at university but he left after a year.
For a while he stepped in to help with the family business selling vehicles for a couple of years, during which time his fiancée Nicole became pregnant. But a week before their daughter Elsie-Rose was born in March 2021 a change in his family's circumstances meant Tyler was forced to find a new job.
Keen to find a career that would provide a stable future for his family, Tyler began to look at apprenticeships.
"I wanted something with career progression, something that was especially important knowing I was going to become a dad," said Tyler, who lives with his family in Stondon Massey near Brentwood, Essex.
"I found Alstom and started the long process to get in. I had lots of interviews and tests and was delighted when I was successful and got taken on to do a rail engineering apprenticeship."
Elsie-Rose was born in March 2021 and three months later Tyler started his Rail Engineering Level 3 Apprenticeship with Alstom and the College of Haringey, Enfield and North East London (CONEL).
Alstom is a global rail engineering company that constructs and undertakes maintenance of trains, signalling and other rail infrastructure, and employs 75,000 people.
Tyler's apprenticeship initially involved nine months of training at CONEL with a salary of £20,000 a year before spending four days a week at a rail depot and one day at college.
Tyler has just started his second year and is now a huge advocate of apprenticeships and the benefits they offer to those looking for a career.
"I love the fact that I'm learning while also getting hands on experience," he said.
"I'm gaining knowledge that is vital to the job and also putting it to use in a practical sense. I'm also not getting into debt like a lot of people who go to university do, and I'm earning a good salary."
Undoubtedly, juggling the demands of having a young child and studying has its challenges at times and Tyler has been grateful for the support and encouragement he has received from his tutors.
"When Elsie-Rose needed to go to hospital in April, I called the college and work and explained the situation and they were fantastic. They extended the deadline for my work allowing me more time to complete it."
Tyler's apprenticeship offered a guaranteed job on successful completion of his training, which has given him an added incentive to do well.
"As a dad having job security and a future career is a huge draw and is one of the reasons I picked an apprenticeship. We're also eligible for a pension and private healthcare, things that really matter when you've got a family."
Tyler's achievements earned him an Excellence Award from Capital City College Group (CCCG), which includes CONEL, along with City and Islington College, Westminster Kingsway College and Capital City College Training.
The UK rail industry is facing a massive skills shortage. In 2020, City & Guilds and the National Skills Academy for Rail (NSAR), revealed 120,000 new workers were needed by the end of the decade.
Find out more about our Rail Engineering apprenticeships here.
Capital City College Group (CCCG) has launched a new range of free short courses in logistics across its colleges to fill a massive skills gap in the logistics industry.
According to Logistics UK, around 2.6 million people are employed at more than 200,000 businesses across the sector, which contributes £127 billion to the economy each year.
However, more than 1.2 million workers are needed over the next decade, in roles from transportation and warehousing to higher level positions in strategic planning and supply chain management.
CCCG has teamed up with training consultancy Skills for Logistics to become one of the first education providers in England to offer courses specifically for careers in logistics.
Places can be booked online under Free Short Courses on the City and Islington College, Westminster Kingsway College and the College of Haringey, Enfield and North East London websites.
Logistics is one of the fastest growing industries in the UK but has been hampered by Brexit, COVID-19, existing skills shortages and limited training opportunities.
Demand has grown for jobs including HGV drivers, delivery managers, transport planners, project managers, client relationship managers, data analysts and business support roles in finance and procurement.
In a six-month period from October 2021 to March 2022 more than 30,000 logistics job vacancies were advertised in London with an average salary of £37,800 a year. These included opportunities with large employers such as NHS, Amazon and First Choice, along with positions advertised by employment agencies like Reed, Hays and Michael Page.
The following courses are available right now in class or online.
An Introduction to Logistics
An Introduction to Modes of Transportation for Logistics
An Introduction to Supply Chain Logistics
An Introduction to Freight Forwarding
An Introduction to Importing and Exporting Goods Legislation
The Highway Code for HGV drivers
HGV Theory Test Preparation
An Introduction to Business Improvement Techniques
Level 3 Award in International Supply Chain Logistics.
The courses were devised with Skills for Logistics, which works with employers to support their training needs and create a pipeline of skilled workers for the logistics industry.
Carl Boyd, Head of School for Logistics at CCCG, said: "Logistics is one the largest industries in the UK and it needs more skilled and qualified staff. At CCCG, we already have an excellent track record in running warehousing and forklift truck driving programmes that lead to employment.
"With the support of Skills for Logistics we've recognised the wider need of the logistics industry, particularly in outer north London, where there are many haulage companies and warehousing facilities serving the capital, offering fantastic opportunities for training and employment."
David Coombes, CEO of Skills for Logistics, said: "We're delighted to be working closely with CCCG to develop its logistics curriculum, which will see its colleges become among the first in Further Education o specialise in delivering future skills to support the rapidly growing UK logistics sector that underpins the UK economy.
"There has not been a better time to develop future talent for a sector that requires a wide variety of skills such as digital, technical, engineering, problem solving, AI and automation, while creating long-term job security in well-paid jobs with excellent career progression."
Find out more about our logistics courses and book a place here.
Logistics firms are invited to have their say recruitment, training and development in the sector at the launch of CCCG and Skills for Logistics' Employer Advisory Board at Westminster Kingsway College's Victoria Centre on Wednesday 19 October at 1pm. For more information contact Carl Boyd, Head of School for Logistics at CCCG, at carl.boyd@conel.ac.uk
A former hairdressing student at the College of Haringey, Enfield and North East London (CONEL) has recalled how cutting the new Doctor Whos' hair led him to work in TV.
Rwandan-born Ncuti Gatwa, 29, was unveiled as the new Time Lord on 8 May and is also set to appear in a Barbie film out next year starring Margot Robbie and Ryan Gosling.
Silas Baiden, 36, cut Ncuti's hair for the Netflix hit series Sex Education, six years after the pair had become friends when Silas was working for a BT call centre in Scotland.
Silas runs Ama Hair Salon in south Tottenham, which specialises in Afro-Caribbean hair, with his mum Ama who also trained at CONEL and started the business in 2001.
He said: "Ncuti is one of my best friends. We met at a party in Glasgow and I cut his hair when he moved to London and lived with me and my mum for a couple of years.
"When he got a part in Sex Education, he told me that they were looking for a barber. I was fresh out of college at the time and didn't feel ready to work on a production, but I nervously went to the set, made some connections and they gave me the job.
"I remember having a bit of imposter syndrome, like I'm not supposed to, or don't deserve to be here, but now I feel I've reached another level. In addition to barbering, I can do braids, cornrows and locks, which are still quite niche things in the TV industry."
Silas also cut and styled hair on set and at the salon for other cast members including Asa Butterfield, Kedar Williams-Stirling, George Robinson, Chinenye Ezeudu, Jonny Amies and Olive Gray.
Silas has gone on to work on Halo, a TV series based on the video game of the same name, for Paramount+ as well as The Mosquito Coast for Apple TV+.
His other famous clients include actors Yasmin Finney, Clifford Samuels, Morgan Rees, Ariyon Bakare and Karla Chrome and singer Henry Dell.
Ama, 57, came to the UK from Ghana in 1990 with Silas when he was just four years old and initially struggled to find work.
She said: "I used to have my own boutique business in Ghana, so being unemployed was foreign to me. The only job I could get was in catering, but that wasn't my passion.
"I did my own hair and my grandma's and some friends back home. I always enjoyed the social aspect of the job and making people feel and look good."
Ama enrolled on a hairdressing course at CONEL, then the College of North East London, in 1992, and worked in a couple of salons in Tottenham before opening her own.
"The teachers showed us how to become fully fledged hairdressers and made us believe in ourselves. They were very experienced and pushed us to be the best we could be," she said.
"I did placements at Afro and European salons to gain experience with both textures. They didn't train in Afro hair at the college at the time, but that has changed now, which is good to see."
Ama has long been an advocate of natural hair, particularly among the Afro-Caribbean community, and has encouraged her clients not to use relaxers or other chemical treatments.
"The death of George Floyd in America and Black Lives Matter has given black people more confidence to be themselves because it is out there that we're treated differently," she said.
"We've woken up to accept who we are. I see it in young people and I tell them how lucky they are to be free to wear their hair the way they want to."
When Silas was younger, he would often help his mum out washing clients' hair at weekend to earn extra pocket money during which time he learnt to plait and blow dry.
"I've always unofficially been an employee of my mum. I used to watch the way she and the rest of her staff would transform people in a few hours and create some magic," he said.
"Working with my mum is awesome. I'm proud that I've been able to continue the business and raise the salon's profile with new ideas and clientele and put it on the map."
Ama added: "Silas has made so many wonderful changes to the business and we have been able to grow and increase our turnover. We're now busier than ever."
You might not end up cutting Doctor Who's hair or working for Netflix but now is the right time for you to start your career in hairdressing or barbering with CONEL.
With top-quality training salons in our Tottenham and Enfield sites and excellent tuition to help you gain a recognised qualification, a career in this rewarding industry is within your reach.
Apply now for our Hairdressing and Beauty Therapy courses.
John Poulter was paralysed in a work accident and spent 14 years in recovery. Here he tells his inspiring story about how the College of Haringey, Enfield and North East London (CONEL) gave him the chance to train as an electrician and run his own business.
John Poulter was 42 when his life changed forever.
The father of three was paralysed from the waist down when a forklift driver dropped a heavy pallet on his lower back when he was working as an HGV driver in August 2007.
John said: "I was dropping off a delivery. The forklift driver came out and the first two pallets came off without a problem. He then got a call on his mobile and while he was talking, he hit the tilt button and my life as I knew it ended."
John's recovery took 14 years, and he is now an electrician with his own business after training at the College of Haringey, Enfield and North East London (CONEL).
Prior to the accident, John, now 56, had worked as a butcher and served in the British Army in the Falklands, Northern Ireland, Germany, Korea and the first Gulf War.
He was by his own definition "a man mountain" who would spend every spare moment when he was not working at the gym.
He said: "I had heavy muscle build and was still disciplined after coming out of the Army and wanted to develop myself. At weekends I was weight training and free running up and down hills with air cylinders and kegs to build up my cardio and breaking all my personal bests."
John was airlifted to the Royal Surrey County Hospital and then transferred to the Royal London Hospital where he underwent two operations and then to a spinal unit at Stoke Mandeville Hospital in Buckinghamshire over the next four weeks.
He then spent the next 18 months at the Royal National Orthopaedic Hospital in Stanmore and over the following 12 years continued to undergo surgery and rehabilitation at Stoke Mandeville.
"Those were the darkest days of my life," said John.
"I was very angry and the most bitter, twisted individual you could come across. When I first got a wheelchair, I kept asking myself why am I sitting in it, why am I going through this, why me?"
John married his wife Adrienne a year before leaving the Army. They had two sons Craig and Perry and a daughter Becky who were teenagers at the time of the accident.
"I think the impact on them was more than it was on me," he said.
"My wife has stuck by me through thick and thin. She was hard as nails and straight-faced on the outside but broken on the inside. She never let her appearance show her weakness and that's what kept me going."
Medical and psychiatric teams at Stoke Mandeville helped John to overcome his negativity and supported him throughout his recovery.
"My psychotherapist reprogrammed my way of thinking. It took two to three months to trust her and from there we moved forward all the time. Everything in my brain was saying what can I do? I had so much energy but nowhere to divert it," he said.
In 2015, while John was living and still undergoing therapy in Buckinghamshire, his doctors asked him what he wanted to do next and suggested he go to college.
He began applying for electrical courses and was turned down by 44 colleges across the UK before being accepted and offered a place at CONEL.
He said: "I kept get red flagged all the time, college after college. Then CONEL took me on the assumption if I prove I can do it, they will put the building blocks in place for me. I told them if you tell or show me something, I'll soak it up like a sponge and will achieve good results."
John moved to Tottenham and went on to complete two Electrical Installations diplomas with Distinction at CONEL and became an advocate for diversity and inclusion at the college.
It was something of a homecoming for John who was born and grew up in nearby Enfield.
John said: "I can't fault anything about CONEL. If it wasn't for the college, I wouldn't have moved forward. Everyone at CONEL treated me with dignity and has got my respect for the simple reason they opened one door, and every door after that has followed."
Towards the end of his time at CONEL John launched his own business, JRP Electrical. He is currently studying for a Level 4 electrical qualification while also giving his time to help and inspire the next generation of electricians at the college.
He runs his business with Adrienne and son Perry, providing the tendering, design and contracting of electrical works for domestic and large developments. When visiting sites he uses ramps, chairlifts, cherry pickers and creepers to aid his mobility.
Earlier this year John met Mayor of London Sadiq Khan at the launch of the Mayor's Academies Programme, a £44 million investment to provide free skills training to get people into work and boost the capital's recovery from the COVID pandemic.
CONEL secured £250,000 to run a Green Academy Hub that is working with employers to create training opportunities in the construction and green industries.
"The only person that can tell an individual they can't do something, is themselves," he said.
"I don't admit failure, I never have done. I've always given everything 100 per cent commitment and looked at my results and thought can I do better.
"You can and will overcome the challenges you will face. Keep pushing because you will get there in the end. Your best days are not behind you, they are yet to come."
Find out more about our Construction courses and apprenticeships.