Students shared their views on tackling racism with a black Metropolitan Police officer during a series of events at Capital City College Group (CCCG) to mark Black History Month.
Inspector Chris Excell, who has served the Met for 15 years, was among the guests invited to give talks to students at the College of Haringey, Enfield and North East London (CONEL).
Insp Excell shared his experience of being a black police officer, a brief history of black police officers in Britain and his role as the Chair of the Black Police Association at the Met.
Students at CONEL also heard from Corporal Nyerere St John who spoke about being a black soldier in the British Army and gave his advice on careers in the Armed Forces.
There were also talks and presentations on black history, the slave trade, Marie Seacole, black Olympians, black footballers, black scientists and inventors, black hair and beauty, black music and the screening of a documentary on the Windrush generation.
City and Islington College (CANDI) hosted a Chat and Chillax session where students took part in a discussion about Black History Month, what it means to them, why it is important and ways to tackle racism in society.
Students also participated in workshops where they wrote positive affirmations to promote more tolerance in society on leaf-shaped pieces of paper that were then stuck to a large picture of a 'tree of hope' for their peers to read.
Among the uplifting messages placed on the tree were 'Everyone is allowed to live freely', 'Respect each other', 'Love each other' and 'Educate ourselves and others.'
The atrium at Westminster Kingsway College's King's Cross Centre was adorned with flags from countries around the world to represent the diversity of its staff and students.
Students heard talks from guest speakers from BAME backgrounds including entrepreneur Tlwalola Ogunles, youth mentor Luke Malillah, actor and presenter Jordan Kensington, social mobility advocate Kevin Osei, property investor TJ Atkinson and WestKing administrator Lorna Blackman.
They were also encouraged to read books by black authors in the college's Learning Resource Centre including Noughts and Crosses by Malorie Blackman, Queenie by Candice Carty-Williams and Slay in Your Lane by Elizabeth Yomi Adegoke and Elizabeth Uviebinené.
There were screenings off Becoming, the documentary on life of former US First Lady Michelle Obama, and Rocks, a drama about a black teenage girl and her brother in Hackney whose mum abandons them, forcing them to try and avoid being taken into social care.
Music students also put on live performances of their own songs inspired by black music.
CCCG runs many enrichment activities across its three colleges for students personal and professional development. Find out more about Student Life at CONEL here.
At the College of Haringey, Enfield and North East London (CONEL) we believe the cost of living should not come at the cost of your education and job prospects.
That's why we run FREE short courses throughout the year to enable you to develop new and existing skills for your future regardless of your age or income.
Cost is one of the main barriers to learning and times are extremely tough at the moment, but there has never been a better time to learn or try something new.
Thousands of people have signed up for our FREE short courses since we started running them in 2018 and many have progressed on to full-time study with us.
And what's more, all our full-time courses up to Level 2 and some at Level 3 are also completely FREE.
Tim Mansfield, 41, took a FREE short course in plumbing followed by a Plumbing Level 2 Diploma after working in the printing trade for more than two decades.
He said: "CONEL's free short courses were exactly what I needed. They gave me the opportunity to try different trades without having to overcommit until I knew what I wanted to pursue more seriously. If they hadn't been free, I'm not sure I would have taken the chance.
"The teachers are well-qualified and approachable, and always on hand with advice and support. I've made some great friends at CONEL and learnt some great skills that I fully intend to build upon in my future career. I'm excited about starting a new chapter."
Our FREE short courses are run at our centres and online, in a wide range of subjects:
Find out more by searching FREE short courses and book a place at CONEL.
Book now for our Open Days at our Tottenham and Enfield Centres on Saturday 5 November from 10am to 1pm.
When Tyler Minter became a dad in March last year he was keen to find a career that offered job security for the future. He explains how a Rail Engineering apprenticeship with Alstom and the College of Haringey, Enfield and North East London (CONEL) has put him on the right line for a successful career.
Tyler Minter has endured many sleepless nights during his Rail Engineering apprenticeship.
But it's not understanding the technical training or the thought of assignment deadlines that are keeping him awake, it's being the proud dad of an 18-month-old baby girl.
Tyler, 24, worked briefly as a machinist for an engineering company after college before enrolling on a BEng (Hons) Aeronautics and Astronautics at university but he left after a year.
For a while he stepped in to help with the family business selling vehicles for a couple of years, during which time his fiancée Nicole became pregnant. But a week before their daughter Elsie-Rose was born in March 2021 a change in his family's circumstances meant Tyler was forced to find a new job.
Keen to find a career that would provide a stable future for his family, Tyler began to look at apprenticeships.
"I wanted something with career progression, something that was especially important knowing I was going to become a dad," said Tyler, who lives with his family in Stondon Massey near Brentwood, Essex.
"I found Alstom and started the long process to get in. I had lots of interviews and tests and was delighted when I was successful and got taken on to do a rail engineering apprenticeship."
Elsie-Rose was born in March 2021 and three months later Tyler started his Rail Engineering Level 3 Apprenticeship with Alstom and the College of Haringey, Enfield and North East London (CONEL).
Alstom is a global rail engineering company that constructs and undertakes maintenance of trains, signalling and other rail infrastructure, and employs 75,000 people.
Tyler's apprenticeship initially involved nine months of training at CONEL with a salary of £20,000 a year before spending four days a week at a rail depot and one day at college.
Tyler has just started his second year and is now a huge advocate of apprenticeships and the benefits they offer to those looking for a career.
"I love the fact that I'm learning while also getting hands on experience," he said.
"I'm gaining knowledge that is vital to the job and also putting it to use in a practical sense. I'm also not getting into debt like a lot of people who go to university do, and I'm earning a good salary."
Undoubtedly, juggling the demands of having a young child and studying has its challenges at times and Tyler has been grateful for the support and encouragement he has received from his tutors.
"When Elsie-Rose needed to go to hospital in April, I called the college and work and explained the situation and they were fantastic. They extended the deadline for my work allowing me more time to complete it."
Tyler's apprenticeship offered a guaranteed job on successful completion of his training, which has given him an added incentive to do well.
"As a dad having job security and a future career is a huge draw and is one of the reasons I picked an apprenticeship. We're also eligible for a pension and private healthcare, things that really matter when you've got a family."
Tyler's achievements earned him an Excellence Award from Capital City College Group (CCCG), which includes CONEL, along with City and Islington College, Westminster Kingsway College and Capital City College Training.
The UK rail industry is facing a massive skills shortage. In 2020, City & Guilds and the National Skills Academy for Rail (NSAR), revealed 120,000 new workers were needed by the end of the decade.
Find out more about our Rail Engineering apprenticeships here.
Capital City College Training (CCCT) and the College of Haringey, Enfield and North East London (CONEL) have been highly commended in three Women into Construction awards.
Both education providers were named runners up in the Partners with Purpose Award, for their work running a five-week programme to help women find on and offsite jobs in the industry.
Jasmine Anthony, 39, from Islington, who undertook the Women into Construction programme with CCCT in August 2020 was also highly commended in the Women's Champion of the Year Award.
Rutuba Zala, Delivery Manager for Adult Education, and Shiv Emmimath, Head of Employability and Trade Union Education, collected the awards on behalf of CCCT and CONEL respectively.
Rutuba said: "We always look to go the extra mile to help people realise their dreams regardless of their background, race or gender. Women into Construction is a perfect example of this, which has helped give many women the opportunity to enter the industry and start new careers.
"This programme enables women, who otherwise would not get the opportunity, to pursue and acquire skill that  set them up for success in an industry where women are still under-represented.
"Women make up just 11 per cent of the construction workforce in the UK, but this number is only set to rise with more women gaining the skills they need to progress in the industry.
"CCCT is a very proud partner of Women into Construction, to help bring about this change."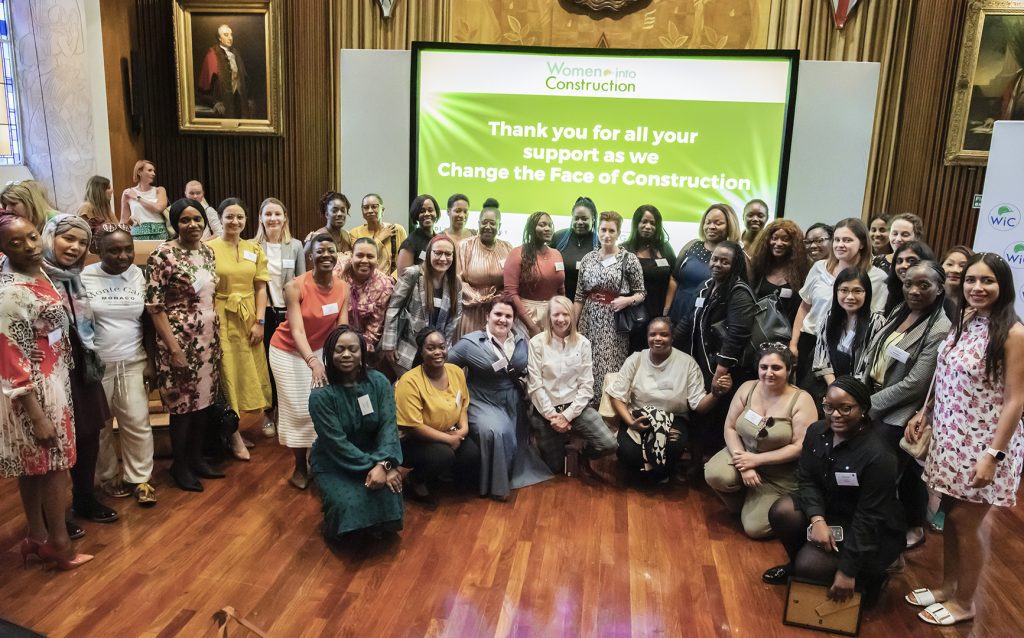 Shiv added: "We're delighted to be highly commended by Women into Construction. At CONEL we're committed to working with developers and contractors to support women from our communities to get the skills and support they need and help change the face of construction by getting more women into the sector.
"The programmes we've delivered for Women into Construction are a fantastic way to help improve women's job prospects and for employers to find new workers with each programme, aligned to actual job vacancies.
"Women on these programmes are fully supported with skills training and given the opportunity to spend valuable work experience on sites with different employers with a range of vacancies.
"In this way, we have been able to shape our programmes to deliver a positive impact on women going into this sector. We're very pleased to be recognised for the work we have done."
Construction and Plumbing at CONEL
Build your career in the construction industry with our Construction and Plumbing courses. All of these courses are taught in our well-equipped construction workshops, providing you with a bespoke training environment so you can develop a love of practical, hands-on work and acquire specialist skills. 
Apply for Construction and Plumbing courses
The Women into Construction programme includes 15 days' work-focused training followed by two weeks' work experience.
This includes five days' construction-related training leading to a Level 1 Health and Safety Level 1 Diploma and a CSCS card test which they need to pass to work on site. The women also receive support with overcoming barriers to employment, writing CVs and interview skills.
Jasmine began working as an electrician for BW Electrical Contractors after impressing on her placement at a 1,000-home development in Bromley-by-Bow being built by Henry Construction.
At the time, she said: "Working as an electrician was always something I had a passion to do, but I never saw it through until now. I didn't think I would be able to do it, but the programme gave me the confidence I needed. When I was told I'd got a job, I couldn't stop smiling. I didn't think it would happen so quicky."
Jasmine added that she had been "treated with a lot of respect" by her male colleagues and urged women not to hold back and to join the programme.
The awards were presented at Women into Construction's Celebration Event attended by 200 guests at Carpenters' Hall in the City on 15 June.
Women into Construction has now supported more than 1,000 women into jobs.
Find out more about the Women into Construction here.
More than 160 college students, including many whose first language is not English, have successfully achieved this year's Reading Ahead challenge.
Certificates were presented to students of the College of Haringey, Enfield and North East London (CONEL) who completed the challenge set by the Reading Agency to read and review six books.
The Reading Ahead challenge is run through colleges, learning providers, libraries, workplaces and prisons, and reaches around 30,000 people each year. It's run by the Reading Agency, a national charity that promotes the benefits of reading to children and adults.
Most of the students who took part are studying English for Speakers of Other Languages (ESOL) courses, while others have been improving their literacy skills on Functional Skills in English courses.
All students who participated were entered into a prize draw to win one of five £25 Tesco vouchers, which were won by Gul Akarcorten, Zaid Emueru, Valentina Vasquez Soto, Gunel Yukselir and Lisa Zangari.
Assistant Principal Hilary Moore presented certificates and prizes to the students at the college's Learning Resource Centre, whose staff organise the programme each year at CONEL.
Pavla Jonasova, Curriculum Manager for ESOL, said: "Reading Ahead is a great initiative to encourage ESOL learners to read. Many read with their children, and some develop a real passion for reading.
English for speakers of other languages (ESOL) at CONEL
Enhance your English grammar and vocabulary for work, study and home life by studying an English for speakers of other languages (ESOL) course at CONEL.
Apply for ESOL courses
"Our students read a variety of books and sometimes listen to a CD that accompanies the books, so they can hear the correct pronunciation as well as developing their vocabulary and spelling. Reading is also very good for mental health and students' wellbeing as it builds their confidence.
"Each year we encourage all our students to participate and each year we see an increase in the number of students who complete it".
If English is not your first language, our ESOL courses are ideal for you. We'll help you learn how to read, write and speak English to improve your education or help you get a job. Apply here.