One of the UK's most influential women in Engineering and Construction has praised the high standard of teaching after studying with Capital City College Group (CCCG).
Phebe Mann, who is Chair of the Institution of Civil Engineers London for 2022-23, achieved an overall Distinction on a Plumbing Level 2 Diploma at the College of Haringey, Enfield and North East London. She also took a short course in Home Repair and Maintenance for Women at Westminster Kingsway College. 
Phebe studied both courses having already established an illustrious engineering and legal career spanning more than three decades and gaining a PhD and four Master's Degrees. 
She is a chartered engineer, chartered surveyor, chartered construction manager and a member of the Chartered Institute of Arbitrators. She was named in the Women in Engineering Society's Top 50 Women in Engineering 2018.  
She has a PhD Collaborative Design, MSc Bridge Engineering, MSc Construction Management, MA (Cantab) Computer Science, LLM Construction Law and is a qualified barrister. 
Engineering at CONEL
Engineering offers a variety of career prospects in some of today's most exciting and dynamic industries, from mechanical, chemical, civil to electrical. Our engineering courses are amongst the best in the country, with many of our students excelling on work placements, progressing to university and realising their career aspirations.
Apply for a Engineering Course
Phebe has worked as a Specialist Judge for the Upper Tribunal and General Regulatory Chamber and has completed engineering projects for Westminster City Council and Cambridge County Council, as well as being a Senior Lecturer at the University of Westminster, University of Reading, University of East London and Open University. 
Phebe decided to enrol on both courses to develop her practical construction skills and increase her awareness of the trades to enable her to better address a national shortage of workers in the UK.
She said: "The students were very enthusiastic in their learning. The lecturers were excellent and devoted to sharing the skills of their professions and we learnt a great deal from the exercises and the feedback they gave us. They also provided high-quality videos of each topic, which we could view repeatedly until we understood the requirements of the course.
"My lecturer for the plumbing practical class was very patient and empathetic to his students as he explained the steps we needed to take and the health and safety requirements for each task. He had a genuine understanding of his students and adapted his teaching to meet their individual needs."
Phebe is passionate about encouraging and inspiring more women to follow in her footsteps and pursue engineering and construction careers.
She said: "Girls tend to do better than boys in GCSE and A Level results including science, mathematics and computing. These are all important skills for engineers and construction. Women excel in skills such as good communication, innovation, creativity and analysis. They should not be intimidated by working in a male-dominated industry."
According to the Engineering UK and there is a shortfall of 173,000 workers in the STEM sector, while the Construction Skills Network says 266,000 new workers are needed by 2026
"If you are passionate about engineering, discover your potentials, seek opportunities, equip yourself, develop a positive learning attitude and be determined to be successful," said Phebe.
"Don't be discouraged by failures. Every success is built on many failures. Don't give up if you believe you can do it."
Apply now for Engineering courses here and Construction courses here.
Capital City College Training (CCCT) and the College of Haringey, Enfield and North East London (CONEL) have been highly commended in three Women into Construction awards.
Both education providers were named runners up in the Partners with Purpose Award, for their work running a five-week programme to help women find on and offsite jobs in the industry.
Jasmine Anthony, 39, from Islington, who undertook the Women into Construction programme with CCCT in August 2020 was also highly commended in the Women's Champion of the Year Award.
Rutuba Zala, Delivery Manager for Adult Education, and Shiv Emmimath, Head of Employability and Trade Union Education, collected the awards on behalf of CCCT and CONEL respectively.
Rutuba said: "We always look to go the extra mile to help people realise their dreams regardless of their background, race or gender. Women into Construction is a perfect example of this, which has helped give many women the opportunity to enter the industry and start new careers.
"This programme enables women, who otherwise would not get the opportunity, to pursue and acquire skill that  set them up for success in an industry where women are still under-represented.
"Women make up just 11 per cent of the construction workforce in the UK, but this number is only set to rise with more women gaining the skills they need to progress in the industry.
"CCCT is a very proud partner of Women into Construction, to help bring about this change."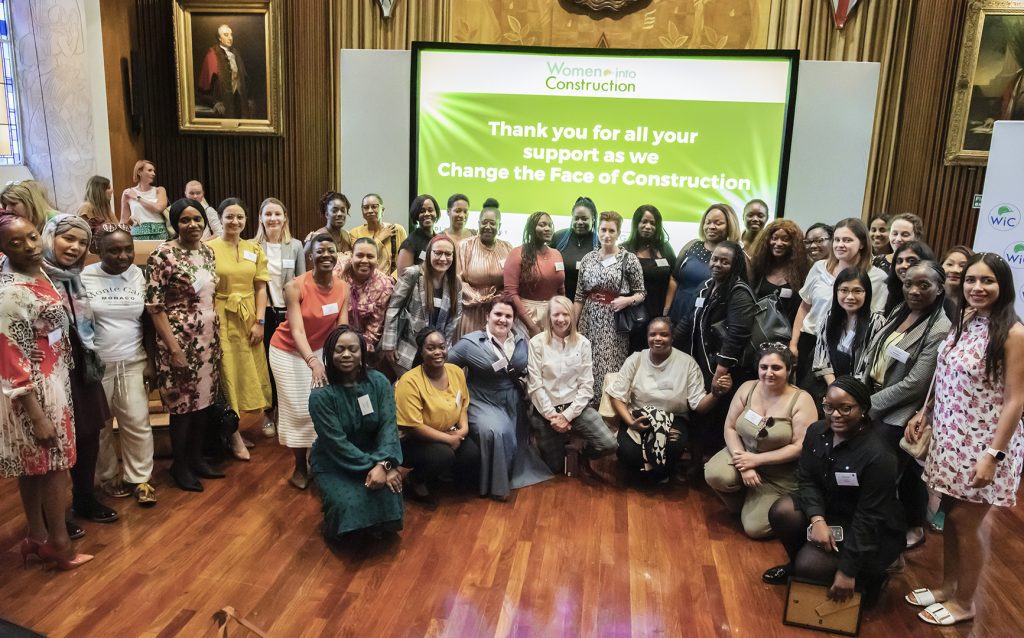 Shiv added: "We're delighted to be highly commended by Women into Construction. At CONEL we're committed to working with developers and contractors to support women from our communities to get the skills and support they need and help change the face of construction by getting more women into the sector.
"The programmes we've delivered for Women into Construction are a fantastic way to help improve women's job prospects and for employers to find new workers with each programme, aligned to actual job vacancies.
"Women on these programmes are fully supported with skills training and given the opportunity to spend valuable work experience on sites with different employers with a range of vacancies.
"In this way, we have been able to shape our programmes to deliver a positive impact on women going into this sector. We're very pleased to be recognised for the work we have done."
Construction and Plumbing at CONEL
Build your career in the construction industry with our Construction and Plumbing courses. All of these courses are taught in our well-equipped construction workshops, providing you with a bespoke training environment so you can develop a love of practical, hands-on work and acquire specialist skills. 
Apply for Construction and Plumbing courses
The Women into Construction programme includes 15 days' work-focused training followed by two weeks' work experience.
This includes five days' construction-related training leading to a Level 1 Health and Safety Level 1 Diploma and a CSCS card test which they need to pass to work on site. The women also receive support with overcoming barriers to employment, writing CVs and interview skills.
Jasmine began working as an electrician for BW Electrical Contractors after impressing on her placement at a 1,000-home development in Bromley-by-Bow being built by Henry Construction.
At the time, she said: "Working as an electrician was always something I had a passion to do, but I never saw it through until now. I didn't think I would be able to do it, but the programme gave me the confidence I needed. When I was told I'd got a job, I couldn't stop smiling. I didn't think it would happen so quicky."
Jasmine added that she had been "treated with a lot of respect" by her male colleagues and urged women not to hold back and to join the programme.
The awards were presented at Women into Construction's Celebration Event attended by 200 guests at Carpenters' Hall in the City on 15 June.
Women into Construction has now supported more than 1,000 women into jobs.
Find out more about the Women into Construction here.
The College of Haringey, Enfield and North East London (CONEL) has teamed up with Building Heroes to offer free construction training to former members of the Armed Forces.
Since April, 22 ex-military personnel have completed a five-week course with the college in partnership with the charity and construction giant Regal London.
Building Heroes was established in 2014 and works with the education sector and employers to provide construction skills training and employment support for service leavers, veterans, reservists and their families.
CONEL is providing onsite training for a Construction Skills Level 1 Diploma an a Health and Safety Level 1 Award along with training to gain a CSCS card, which they need to be able to work on building sites.
Training is taking place at a Regal London construction site in Clarendon Road, Watford, where a new 25-floor residential development comprising 168 homes is being built.
The first two groups completed their training in May and July, with a third group expected to start in September.
Ade Jerry, 40, joined the Army in 2004 and served for 10 years but left on medical grounds, which included severe post-traumatic stress disorder.
"I wanted the opportunity to learn new skills and better myself in life. I received full support from the Building Heroes team, which really helped me in finding a new direction," he said.
"The tutor was fantastic and provided me support in both the theoretical and practical side of the course. The academy provided me some experience working on site and a fresh perspective.
"Both Building Heroes and CONEL helped me with any difficulties I had and helped me create a different perspective within myself. It has left me feeling positive about the future."
Ross Gordon, 21, left the Army after deciding it was not the right career for him. He turned to Building Heroes having gained some construction experience during his service, building the first NHS Nightingale Hospital during the pandemic.
He said: "The course content enabled me to practice different skills and work out what areas I liked/didn't. It pushed me in the right direction. I couldn't have asked for a better tutor and felt fully supported throughout the duration of the course.
"I enjoyed the variation of the course content and the extra extended projects. We were able to see other sites and get some perspective of all the trades we were learning about."
Both Ade and Ross have both gained contract work with Regal London and are looking at other courses to advance their skills and careers.
Last month, to mark Armed Forces Week from 20-25 June, the most recent group won a Construct a Cake competition, set by Building Heroes, to make a cake out of building materials.
Gary Lee, Curriculum Manager for Construction, Plumbing and Electrical at CONEL, said: "Our Armed Forces do so much for our country, and we felt it only right that we give something back to those who have served in conflict or more recently assisted and provided support during the pandemic.
"Regardless of their starting point and the challenges they have faced, all the ex-services personnel who have signed up have all shared a military attitude and determination to achieve."
Construction courses at CONEL
Our vocational courses in Construction, Plumbing and Electrical Installation will give you the skills
you need to work in these booming industries.
Apply for Construction courses
According to Building Heroes, 15,000 people leave the Armed Forces each year, with the percentage of working age veterans expected to increase from 37 per cent in 2016 to 44 per cent in 2028.
The Construction Industry Training board (CITB) has reported 217,000 new workers are needed in the construction industry by 2025 to meet the demand for new housing in the UK.
Brendan Williams, CEO and founder of Building Heroes, said: "Building Heroes is excited to be working with CONEL at our new Regal London onsite training academy in Watford.
"The college's flexibility in finding a way to support us and the quality of leadership and tuition has been exceptional, and we've received excellent feedback from our first cohort of learners.
"We look forward to continuing this relationship and looking for innovative and exciting ways to extend this partnership."
If you are a former member of the Armed Forces interested in how Building Heroes can help you get the skills for a career in construction, you can find out more here.
CONEL also runs Construction courses in brickwork, carpentry, plumbing and electrical installations at its centres in Tottenham and Enfield, and has partnered with leading industry employer Ardmore on the London Welding Academy in Enfield. Find out more and apply here.