Students and apprentices celebrated a year of outstanding achievements at the first Capital City College Group (CCCG) Excellence Awards.
Around 60 awards were presented to learners in recognition of their hard work, commitment and success over the past year at a glittering ceremony at Tobacco Dock in east London.
Students from City and Islington College (CANDI), Westminster Kingsway College (WestKing) and the College of Haringey, Enfield and North East London (CONEL), and apprenticeship and training provider Capital City College Training (CCCT) all received awards.
Awards were also presented to participants of entrepreneurship programme Visionnaires, which started within CCCG in 2019, and 01 Founders, a coding school launched with CCCG in 2021.
Organisations that work with CCCG were also honoured. Arsenal in the Community received a Community Recognition Award while Nominet and Building Heroes/Regal London were handed Employer Partner Awards.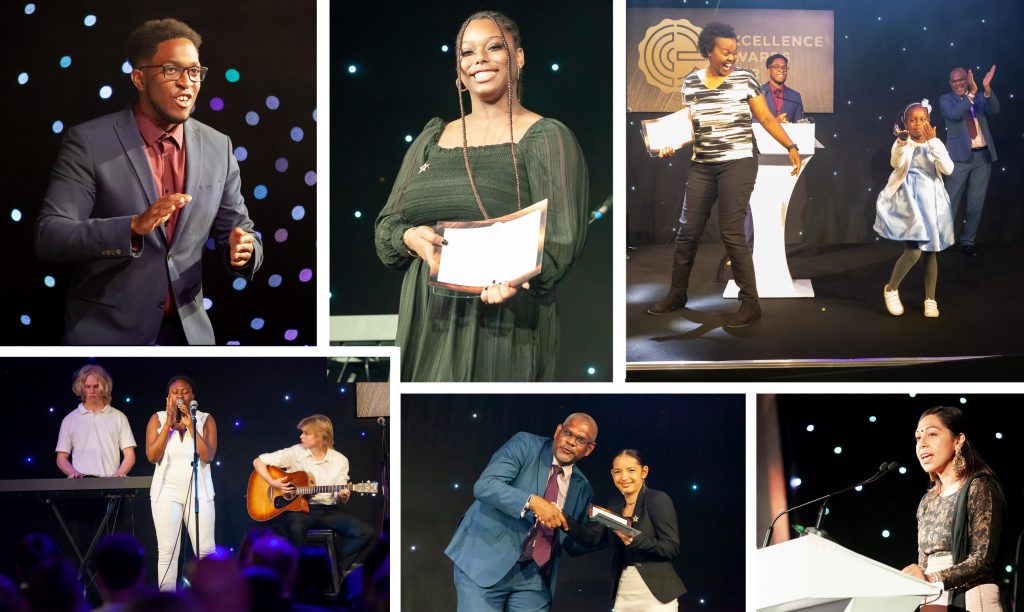 The ceremony was compèred by Kamal Ellis-Hyman, Founder and Director of Aim A Little Higher, which runs personal development programmes for young people across the UK.
Alastair Da Costa, Chair of CCCG, welcomed the award winners and their families and presented the awards along with Jasbir Sondhi, Vice Principal of WestKing, and David Dangana, Director of Group Quality and Compliance.
He said: "Excellence is hard work realised. It takes dedication, perseverance, overcoming frustrations and doubts. Realising excellence requires support from friends and family, it requires picking up when you are down, and it is right to celebrate achievement and success with friends and loved ones.
"This evening, I want to thank you all for being excellent, whether you win an award, are supporting those who win an award or whether you have taught and helped those in this room to realise their potential."
Awards were presented to students from across CCCG's provision including many who had achieved success at college and overcome major challenges during their studies.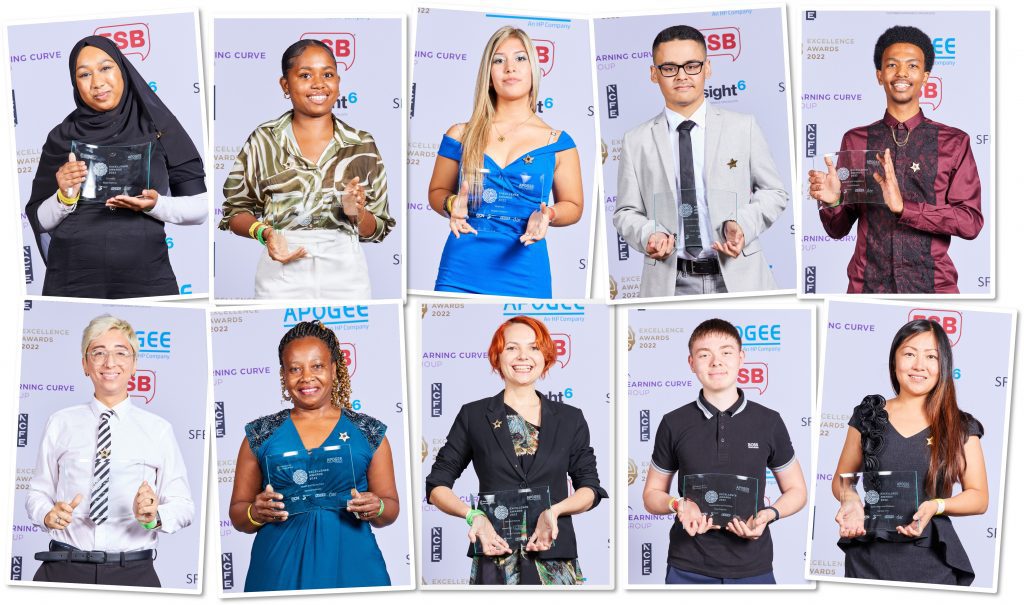 Among the award winners was Vivek Quissor who gained a triple-starred Distinction in his Public Services diploma at CANDI and was praised for the quality of his well-researched assignments and being an inspiration to other students.
Vivek, 18, who is now studying for a BA (Hons) Criminology and Criminal Justice at the University of Greenwich, said: "My lecturers provided an outstanding level of teaching throughout the length of my course. I credit my success to them. They left no stone unturned when it came to making sure that assignment work was completed to the highest of standards."
Also picking up an award was Mariana Ghertan who completed her Healthcare Support Worker apprenticeship with CCCT despite catching COVID twice and suffering family bereavement.
Mariana, 36, said: "My tutor was the most incredible support. She encouraged me not to give up and offered me more time. I spoke to my husband and sons who had seen how much hard work I had put in. They said that my mum was proud of me and would have wanted me to finish, so I did."
Tyler Minter, 24, wanted to start a Rail Engineering apprenticeship with Alstom and CONEL after learning he was to become a dad. He was described by his tutors as "an exceptional student" who produces a high standard of work and is a perfect role model to his peers.
He said: "I love the fact that I'm learning while also getting hands on experience. I'm gaining knowledge that is vital to the job and also putting it to use in a practical sense. I'm also not getting into debt like a lot of people who go to university do, and I'm earning a good salary."
The final award of the night was the CCCG Inspiration Award, which was presented to CANDI Art and Design diploma student Georgiana Guias, who was praised by her teachers for her dedication, intelligence and enthusiasm, as well as her support for her peers.
Georgiana, 18, who is now studying a BA (Hons) Architecture at Central Saint Martins, said: "It's a big surprise to get this award because everybody on the course worked hard. The course was challenging but I got to learn new skills and techniques and the teachers were friendly and supportive of me and other students."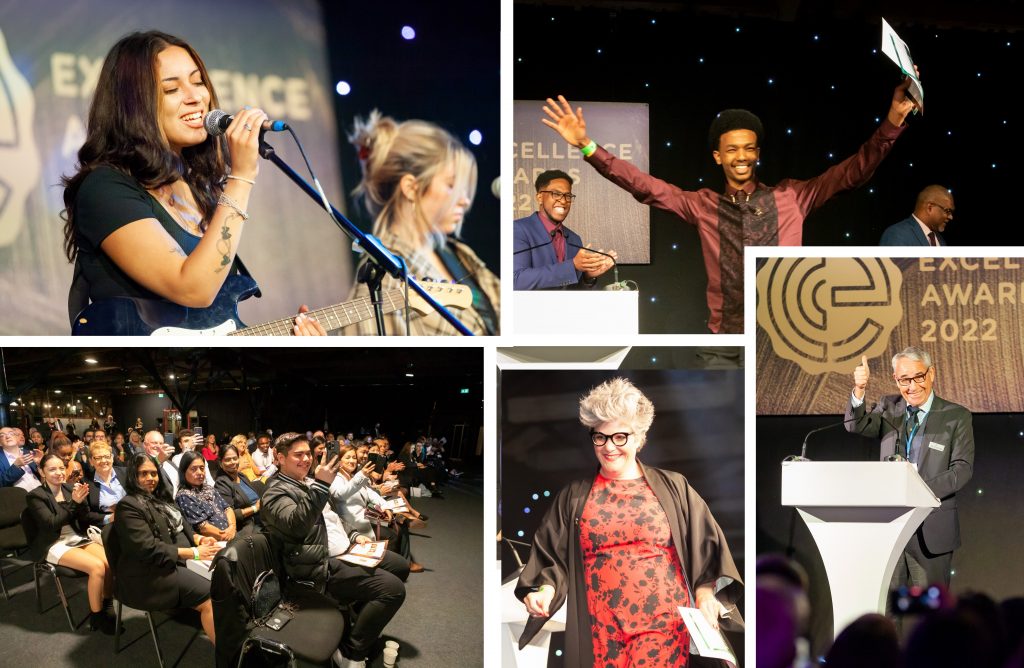 The ceremony also featured live performances by Music Performance and Production students from CANDI and WestKing.
CANDI students Beth Cook, 18, Gloria Elubode, 17, and Ralph Heywood, 17, performed their own composition entitled Faith and Strength is the Key.
WestKing students Gabi Reece, 18, and Isabelle Linehan, 17, together known as The Park, performed their own work called She'll Stay.
Hospitality and Culinary Arts students from WestKing served canapés at the event with front of house service run by WestKing's Travel and Tourism students and CONEL's Public Service students.
The ceremony was sponsored by Apogee, NCFE, OCN London, Gateway Qualifications, Dar Group, insight6, Learning Curve Group, Candor Professional Beauty Academy, ESB, GLL, SFEDI Group and 3Drakes.
Roy O'Shaughnessy, CEO of CCCG, described the evening as "absolutely incredible and inspiring" as he congratulated the award winners, staff, sponsors and organisers of the event.
He said: "I want to congratulate our staff, students, their families and friends and thank them for making this evening such a wonderful success. It is such a privilege to look around this room and see students, teachers and staff from across the Group, sitting here today and celebrating the hard work of those that we've honoured, so really, truly well done.
"We wouldn't have been here without our sponsors, and I would like to thank them on behalf of our staff, students, staff and governors. Your work means that at CCCG we not only can offer courses and programmes, but we are able to work with employers to give opportunities for our students to create the future for London."
Find out more about our wide range of courses and apprenticeships here.
A student with autism at the College of Haringey, Enfield and North East London (CONEL) has shared his excitement at getting a place at university this September.
Chinwoke Edeh, 24, from Tottenham, has an offer to study a Foundation Degree in Media at Middlesex University when he completes his Creative Media Production Level 3 Diploma.
He said: "I'm really excited to be going to university and looking forward to the foundation course in media. It will give me even more independence and improve me as a person as well. I'm very proud of myself and happy with the progress I'm making towards my future career."
Chinwoke experiences daily challenges with language and communication, literacy and numeracy, but has made huge progress and grown significantly in confidence since he started at CONEL in 2017.
"Sometimes when I'm asked to do things for the first time, I have to write it down step-by-step in order, so I get the hang of doing it. The college has really helped me complete the tasks to the best of my ability," he said.
Chinwoke has completed Media diplomas at Levels 1-2, having previously been part of the college's Supported Learning provision for young people with Special Educational Needs and Disabilities (SEND). During this time, he also studied English and maths courses to help him gain independence and work skills.
"I've always been very creative, firstly with pictures and then I got interested how to use Adobe. I like it because you get to express yourself and bring out your ideas and personality," he said.
"The teaching I have had at college has been excellent. The teachers were really supportive and helped me with any areas I needed to improve. They were always around when I needed them."
Over the past two years Chinwoke has been supported by Additional Learning Support Assistant Sandra Fox, who is also neurodivergent with dyspraxia and dyslexia.
She said: "Since I've been working with Chinwoke, he's excelled to the extent he is now at Level 3 and done amazingly well at college to get a place at university.
"He will still need help, but each year he's been moving away from support and working more independently. To go from SEND to mainstream is incredible. It's been a remarkable journey and I'm so proud of him, but most importantly he is proud of himself."
Tamara Lesniewska, Curriculum Manager for Creative and Digital Media, was also in awe of Chinwoke's accomplishments during his time at CONEL.
She said: "Chinwoke is a really wonderful student to teach. I'm immensely proud of him and the high standard and quality of work he has produced at college. What he has achieved from when he started to where he is now with a university offer, is nothing short of fantastic."
CONEL is committed to providing adjustments to ensure that everyone can succeed with us. If you, or your or your child, has a learning disability, we will provide an exceptional learning experience, understand that your needs are unique andl provide support that is most appropriate for you.
Find out more about CONEL's Supported Learning provision here and how to apply for Creative Media Production courses here.
John Poulter was paralysed in a work accident and spent 14 years in recovery. Here he tells his inspiring story about how the College of Haringey, Enfield and North East London (CONEL) gave him the chance to train as an electrician and run his own business.
John Poulter was 42 when his life changed forever.
The father of three was paralysed from the waist down when a forklift driver dropped a heavy pallet on his lower back when he was working as an HGV driver in August 2007.
John said: "I was dropping off a delivery. The forklift driver came out and the first two pallets came off without a problem. He then got a call on his mobile and while he was talking, he hit the tilt button and my life as I knew it ended."
John's recovery took 14 years, and he is now an electrician with his own business after training at the College of Haringey, Enfield and North East London (CONEL).
Prior to the accident, John, now 56, had worked as a butcher and served in the British Army in the Falklands, Northern Ireland, Germany, Korea and the first Gulf War.
He was by his own definition "a man mountain" who would spend every spare moment when he was not working at the gym.
He said: "I had heavy muscle build and was still disciplined after coming out of the Army and wanted to develop myself. At weekends I was weight training and free running up and down hills with air cylinders and kegs to build up my cardio and breaking all my personal bests."
John was airlifted to the Royal Surrey County Hospital and then transferred to the Royal London Hospital where he underwent two operations and then to a spinal unit at Stoke Mandeville Hospital in Buckinghamshire over the next four weeks.
He then spent the next 18 months at the Royal National Orthopaedic Hospital in Stanmore and over the following 12 years continued to undergo surgery and rehabilitation at Stoke Mandeville.
"Those were the darkest days of my life," said John.
"I was very angry and the most bitter, twisted individual you could come across. When I first got a wheelchair, I kept asking myself why am I sitting in it, why am I going through this, why me?"
John married his wife Adrienne a year before leaving the Army. They had two sons Craig and Perry and a daughter Becky who were teenagers at the time of the accident.
"I think the impact on them was more than it was on me," he said.
"My wife has stuck by me through thick and thin. She was hard as nails and straight-faced on the outside but broken on the inside. She never let her appearance show her weakness and that's what kept me going."
Medical and psychiatric teams at Stoke Mandeville helped John to overcome his negativity and supported him throughout his recovery.
"My psychotherapist reprogrammed my way of thinking. It took two to three months to trust her and from there we moved forward all the time. Everything in my brain was saying what can I do? I had so much energy but nowhere to divert it," he said.
In 2015, while John was living and still undergoing therapy in Buckinghamshire, his doctors asked him what he wanted to do next and suggested he go to college.
He began applying for electrical courses and was turned down by 44 colleges across the UK before being accepted and offered a place at CONEL.
He said: "I kept get red flagged all the time, college after college. Then CONEL took me on the assumption if I prove I can do it, they will put the building blocks in place for me. I told them if you tell or show me something, I'll soak it up like a sponge and will achieve good results."
John moved to Tottenham and went on to complete two Electrical Installations diplomas with Distinction at CONEL and became an advocate for diversity and inclusion at the college.
It was something of a homecoming for John who was born and grew up in nearby Enfield.
John said: "I can't fault anything about CONEL. If it wasn't for the college, I wouldn't have moved forward. Everyone at CONEL treated me with dignity and has got my respect for the simple reason they opened one door, and every door after that has followed."
Towards the end of his time at CONEL John launched his own business, JRP Electrical. He is currently studying for a Level 4 electrical qualification while also giving his time to help and inspire the next generation of electricians at the college.
He runs his business with Adrienne and son Perry, providing the tendering, design and contracting of electrical works for domestic and large developments. When visiting sites he uses ramps, chairlifts, cherry pickers and creepers to aid his mobility.
Earlier this year John met Mayor of London Sadiq Khan at the launch of the Mayor's Academies Programme, a £44 million investment to provide free skills training to get people into work and boost the capital's recovery from the COVID pandemic.
CONEL secured £250,000 to run a Green Academy Hub that is working with employers to create training opportunities in the construction and green industries.
"The only person that can tell an individual they can't do something, is themselves," he said.
"I don't admit failure, I never have done. I've always given everything 100 per cent commitment and looked at my results and thought can I do better.
"You can and will overcome the challenges you will face. Keep pushing because you will get there in the end. Your best days are not behind you, they are yet to come."
Find out more about our Construction courses and apprenticeships.