Capital City College Group (CCCG) has launched a new range of free short courses in logistics across its colleges to fill a massive skills gap in the logistics industry.
According to Logistics UK, around 2.6 million people are employed at more than 200,000 businesses across the sector, which contributes £127 billion to the economy each year.
However, more than 1.2 million workers are needed over the next decade, in roles from transportation and warehousing to higher level positions in strategic planning and supply chain management.
CCCG has teamed up with training consultancy Skills for Logistics to become one of the first education providers in England to offer courses specifically for careers in logistics.
Places can be booked online under Free Short Courses on the City and Islington College, Westminster Kingsway College and the College of Haringey, Enfield and North East London websites.
Logistics is one of the fastest growing industries in the UK but has been hampered by Brexit, COVID-19, existing skills shortages and limited training opportunities.
Demand has grown for jobs including HGV drivers, delivery managers, transport planners, project managers, client relationship managers, data analysts and business support roles in finance and procurement.
In a six-month period from October 2021 to March 2022 more than 30,000 logistics job vacancies were advertised in London with an average salary of £37,800 a year. These included opportunities with large employers such as NHS, Amazon and First Choice, along with positions advertised by employment agencies like Reed, Hays and Michael Page.
The following courses are available right now in class or online.
An Introduction to Logistics
An Introduction to Modes of Transportation for Logistics
An Introduction to Supply Chain Logistics
An Introduction to Freight Forwarding
An Introduction to Importing and Exporting Goods Legislation
The Highway Code for HGV drivers
HGV Theory Test Preparation
An Introduction to Business Improvement Techniques
Level 3 Award in International Supply Chain Logistics.
The courses were devised with Skills for Logistics, which works with employers to support their training needs and create a pipeline of skilled workers for the logistics industry.
Carl Boyd, Head of School for Logistics at CCCG, said: "Logistics is one the largest industries in the UK and it needs more skilled and qualified staff. At CCCG, we already have an excellent track record in running warehousing and forklift truck driving programmes that lead to employment.
"With the support of Skills for Logistics we've recognised the wider need of the logistics industry, particularly in outer north London, where there are many haulage companies and warehousing facilities serving the capital, offering fantastic opportunities for training and employment."
David Coombes, CEO of Skills for Logistics, said: "We're delighted to be working closely with CCCG to develop its logistics curriculum, which will see its colleges become among the first in Further Education o specialise in delivering future skills to support the rapidly growing UK logistics sector that underpins the UK economy.
"There has not been a better time to develop future talent for a sector that requires a wide variety of skills such as digital, technical, engineering, problem solving, AI and automation, while creating long-term job security in well-paid jobs with excellent career progression."
Find out more about our logistics courses and book a place here.
Logistics firms are invited to have their say recruitment, training and development in the sector at the launch of CCCG and Skills for Logistics' Employer Advisory Board at Westminster Kingsway College's Victoria Centre on Wednesday 19 October at 1pm. For more information contact Carl Boyd, Head of School for Logistics at CCCG, at carl.boyd@conel.ac.uk
Capital City College Training (CCCT) and the College of Haringey, Enfield and North East London (CONEL) have been highly commended in three Women into Construction awards.
Both education providers were named runners up in the Partners with Purpose Award, for their work running a five-week programme to help women find on and offsite jobs in the industry.
Jasmine Anthony, 39, from Islington, who undertook the Women into Construction programme with CCCT in August 2020 was also highly commended in the Women's Champion of the Year Award.
Rutuba Zala, Delivery Manager for Adult Education, and Shiv Emmimath, Head of Employability and Trade Union Education, collected the awards on behalf of CCCT and CONEL respectively.
Rutuba said: "We always look to go the extra mile to help people realise their dreams regardless of their background, race or gender. Women into Construction is a perfect example of this, which has helped give many women the opportunity to enter the industry and start new careers.
"This programme enables women, who otherwise would not get the opportunity, to pursue and acquire skill that  set them up for success in an industry where women are still under-represented.
"Women make up just 11 per cent of the construction workforce in the UK, but this number is only set to rise with more women gaining the skills they need to progress in the industry.
"CCCT is a very proud partner of Women into Construction, to help bring about this change."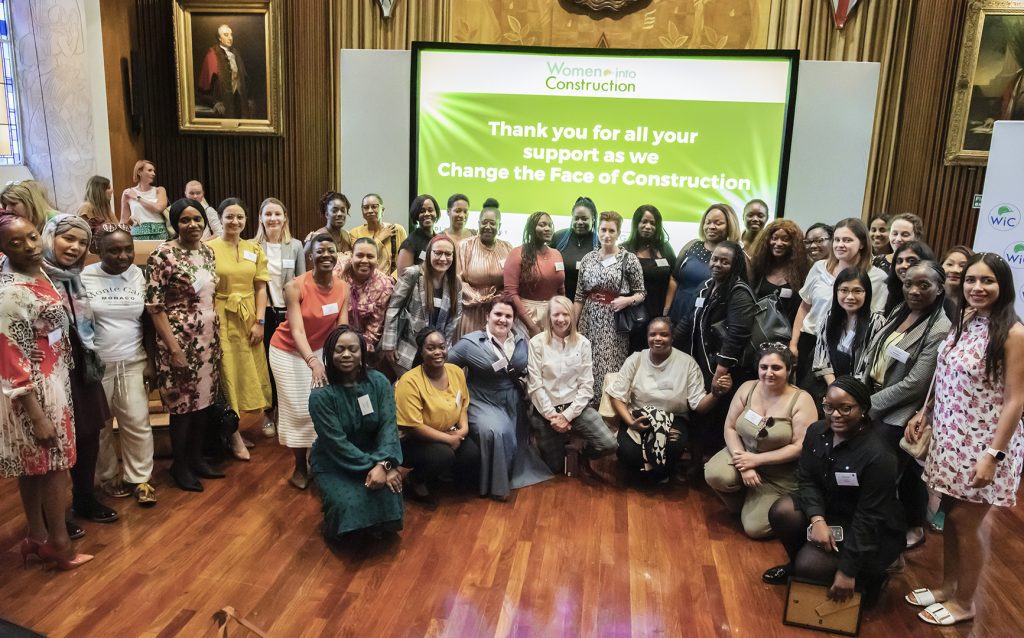 Shiv added: "We're delighted to be highly commended by Women into Construction. At CONEL we're committed to working with developers and contractors to support women from our communities to get the skills and support they need and help change the face of construction by getting more women into the sector.
"The programmes we've delivered for Women into Construction are a fantastic way to help improve women's job prospects and for employers to find new workers with each programme, aligned to actual job vacancies.
"Women on these programmes are fully supported with skills training and given the opportunity to spend valuable work experience on sites with different employers with a range of vacancies.
"In this way, we have been able to shape our programmes to deliver a positive impact on women going into this sector. We're very pleased to be recognised for the work we have done."
Construction and Plumbing at CONEL
Build your career in the construction industry with our Construction and Plumbing courses. All of these courses are taught in our well-equipped construction workshops, providing you with a bespoke training environment so you can develop a love of practical, hands-on work and acquire specialist skills. 
Apply for Construction and Plumbing courses
The Women into Construction programme includes 15 days' work-focused training followed by two weeks' work experience.
This includes five days' construction-related training leading to a Level 1 Health and Safety Level 1 Diploma and a CSCS card test which they need to pass to work on site. The women also receive support with overcoming barriers to employment, writing CVs and interview skills.
Jasmine began working as an electrician for BW Electrical Contractors after impressing on her placement at a 1,000-home development in Bromley-by-Bow being built by Henry Construction.
At the time, she said: "Working as an electrician was always something I had a passion to do, but I never saw it through until now. I didn't think I would be able to do it, but the programme gave me the confidence I needed. When I was told I'd got a job, I couldn't stop smiling. I didn't think it would happen so quicky."
Jasmine added that she had been "treated with a lot of respect" by her male colleagues and urged women not to hold back and to join the programme.
The awards were presented at Women into Construction's Celebration Event attended by 200 guests at Carpenters' Hall in the City on 15 June.
Women into Construction has now supported more than 1,000 women into jobs.
Find out more about the Women into Construction here.
Aspiring accountants gained an invaluable insight into the career of the President of the Association of Accounting Technicians (AAT) and the benefits of joining the industry body.
Heather Hill shared her experience of working in the sector and her role at AAT with students and apprentices at the College of Haringey, Enfield and North East London (CONEL).
AAT is the leading professional membership body for accounting technicians with 125,000 members and students worldwide. AAT is also an awarding organisation that is recognised globally as being the gold standard for anyone wanting to gain technical accounting skills.
Heather studied for BTEC National Certificate in Business and Finance and then an AAT Level 4 qualification while working in local government finance, which allowed her to gain full AAT membership.
She said: "It wasn't easy at times. I was grateful for the support of my tutors who dedicated their time and effort to ensure I understood and learned the syllabus, as I know your tutors do for you."
Heather later moved to Wiltshire and set up her own accountancy practice, which she ran for 24 years providing services to sole traders, companies, partnerships, charities and other organisations.
During this time, she studied for her Association of Taxation Technicians (ATT) qualifications to expand the services she could offer her clients.
Heather, who has been a member of the AAT for more than 30 years, joined her local branch of the association and is now a Fellow member of both the AAT and ATT.
Joining the AAT branch gave her the opportunity to network, share experiences and gain experience from other like-minded professionals while continuing to develop her skills.
"Branch meetings provide opportunities to learn about other areas you may want to specialise in and to receive valuable continuing professional development to update our existing knowledge and skills. They also enable you to receive support from others who have already developed their careers further, such as attaining chartered accountant status," she said.
Heather, who was previously chair of the Swindon branch, joined AAT Council in 2016, and is now Chair of the Council and is a member of the Management Board, Nominations and Governance Board and Remuneration Board. She was elected Vice President of AAT in September 2020 and became President of AAT a year later.
She said: "AAT is working hard to create an inclusive community, to help people to get a start in our great profession, and to then support them throughout their career. I hope you will progress your studies and become a member of AAT.
"AAT is not just a valuable qualification, it is a community of people who support one another and who share the same ethos."
Wishing students and apprentices good luck with their studies, Heather added: "Don't regard setbacks as failures, they are all learning opportunities and building blocks to a better future. Believe in yourself and you will achieve your goals."
Business students capitalise on private equity firm Primera visit
Business students at CONEL invested in their future when they visited global private equity firm Primera.
The group, who are studying for a Business Level 3 Diploma, were given an insight into business and investment at the company's UK office in Pall Mall.
They heard about the growth of the private equity market, how Primera operates, the markets it invests in and how it makes decisions on acquisitions, while also learning about fund management and investor relations.
The students also took part in a practical workshop where they had to look at the performance of three different businesses and decide which company to buy.
Employees at the company then shared their career journeys and took questions from the students on career choices and gave them advice and guidance.
The visit was arranged by Career Ready, a charity which works with educators and employers to prepare young people for work and help them fulfil their potential.
Kareen Lawrence, Regional Account Manager at AAT, also shared more about how becoming an AAT member demonstrates a commitment to exceptionally high standards and ethics in accounting, as well as CPD opportunities available for AAT qualified bookkeepers and members.
This included using the AAT's Knowledge Hub to keep updated on the sector including articles, podcasts and webinars, as well as it's e-learning platform, employability advice and other events.
Riccardo Maserati, 22, and Leah Hughes, 23, have both completed an Accounting Level 3 Apprenticeship with CONEL this year and are looking to continue their studies.
Riccardo, who is taking his apprenticeship with The Scout Association, said: "I enjoy the managerial side of accounting like how to make more profit and how to cut your cost them kind of things. After my level three I will look to do my ACCA to try and get involved more in manager accounting but apart from that I'm quite open with my future.
"Meeting and hearing from a senior face behind the AAT was really inspiring. I'm going to use the AAT website a bit more to my advantage for my next exams."
Leah, who is training at recruitment firm NP Group, said: "I learnt a lot more about the AAT's networking events and the resources on their website, which will help with my further studies and to eventually become a chartered accountant.
"I started my apprenticeship because I needed to work. It was the perfect opportunity to earn money and get a qualification. The college helped prepare me for my interview and I've really liked the teachers I've had. They take the time to explain everything really well and are always there if I needed any advice."
CONEL's Accounting courses and apprenticeships from Levels 2-4 including a 14-week AAT Level 2 Pre-apprenticeship that leads to a full AAT Level 3 Apprenticeship, with apprentices spending four days a week training in a paid job and one day studying.
Jacqueline Dyett, Head of School for Business, Accounting and Travel and Tourism, said: "It was wonderful having Heather visit CONEL and talk to our students and apprentices. It gave them the chance to put a face to the qualification they are studying and hear about Heather's inspiring journey from similar beginnings to where she is now, as well as hearing about the benefits of the AAT.
"It was a good opportunity for them to realise the significance of the AAT and what lies ahead for them along with giving them that added impetus to keep going as the qualifications get tougher and to get into their future careers."
If you are good with numbers and problem-solving, a career in accounting could be for you. At CONEL we work with top employers to give you the skills and experience needed to work in this huge sector. Apply for courses here and apprenticeships here.
More than 160 college students, including many whose first language is not English, have successfully achieved this year's Reading Ahead challenge.
Certificates were presented to students of the College of Haringey, Enfield and North East London (CONEL) who completed the challenge set by the Reading Agency to read and review six books.
The Reading Ahead challenge is run through colleges, learning providers, libraries, workplaces and prisons, and reaches around 30,000 people each year. It's run by the Reading Agency, a national charity that promotes the benefits of reading to children and adults.
Most of the students who took part are studying English for Speakers of Other Languages (ESOL) courses, while others have been improving their literacy skills on Functional Skills in English courses.
All students who participated were entered into a prize draw to win one of five £25 Tesco vouchers, which were won by Gul Akarcorten, Zaid Emueru, Valentina Vasquez Soto, Gunel Yukselir and Lisa Zangari.
Assistant Principal Hilary Moore presented certificates and prizes to the students at the college's Learning Resource Centre, whose staff organise the programme each year at CONEL.
Pavla Jonasova, Curriculum Manager for ESOL, said: "Reading Ahead is a great initiative to encourage ESOL learners to read. Many read with their children, and some develop a real passion for reading.
English for speakers of other languages (ESOL) at CONEL
Enhance your English grammar and vocabulary for work, study and home life by studying an English for speakers of other languages (ESOL) course at CONEL.
Apply for ESOL courses
"Our students read a variety of books and sometimes listen to a CD that accompanies the books, so they can hear the correct pronunciation as well as developing their vocabulary and spelling. Reading is also very good for mental health and students' wellbeing as it builds their confidence.
"Each year we encourage all our students to participate and each year we see an increase in the number of students who complete it".
If English is not your first language, our ESOL courses are ideal for you. We'll help you learn how to read, write and speak English to improve your education or help you get a job. Apply here.
Students had the chance to question a TV news producer and reporter about careers in broadcast journalism when she visited the College of Haringey, Enfield and North East London (CONEL).
Michelle Gooden-Jones from Al Jazeera English shared her experience and advice at the college's Creative, Computing and Media End of Year Show.
Michelle, who has also reported for US media including NBC News, explained how she studied TV journalism at university and did an internship at Al Jazeera, aided by a friend's mum who was a presenter and introduced her to an executive producer.
She said: "You need to study media or journalism, but you also do need to get yourself out there and telling stories. It's also about connections as well, so network and make sure people know that you're interested in working in the industry because then they're more likely to help you."
Al Jazeera's main headquarters are in Doha, Qatar, with Al Jazeera English located at The Shard. The channel broadcasts to 80 million homes in 100 countries and its reporters come from all over the world.
Michelle admitted it can be harder for under-represented groups to find work in the industry but with the right mentors and determination it was possible to succeed.
"As long as you go in there and you're confident in yourself and you have stories and you do the work, there's nothing stopping any of you from achieving in news," she said.
The End of Year Show celebrated the work created by students across the college's Creative Media, Computing and Music courses, and saw this year's best performing students presented with mini-Oscar statuettes and certificates of achievement.
CONEL invests in new £30k music recording studio
Students on Music courses at CONEL will be able record and mix their own tracks in a new £30,000 recording studio at the college's Tottenham Centre this September.
The studio is kitted out with leading industry-standard equipment and features a live recording area, control room, microphones, mixers, synthesizers and digital software.
CONEL runs Music Performance and Production courses from Level 1-3 led by lecturers who have many years' experience working in the music industry.
Our teachers have worked for major music companies alongside top artistes, been influential on the club scene and recorded music for TV series.
Apply now to start composing and recording your own tracks on one of our music courses.
Creative Media Level 1 Diploma student Daniela-Elena Moise, 19, was presented with this year's award for Best Photographer.
She said: "I've enjoyed everything about the course. I've taken photos, learnt how to do a promotion and make a documentary, and created layouts for magazines and leaflets. My teachers have been amazing, I've never had teachers like this. They've really helped me and have made it a lot of fun in class."
The show featured showreels of students' work during their studies featuring clips of film trailers, short films and music videos as well as video games, 2D and 3D animations and graphic design.
Toan Phan, Curriculum Manager Computing Creative and Media, inspired students at the show when he shared how he came to the UK as a Vietnamese refugee but later graduated from university despite being dyslexic, before working as a web designer and a teacher at CONEL.
IT Diploma students Mario Busato and Alex Gomeniuk spoke about a project they worked on with an actual client to design a website called Key London Walks providing information on walking tours around north London.
There was also an esports competition where students played computer games against each other with the chance to win a £30 Amazon voucher, which was won by Creative Media Production student Glen Miguel.
Students also posed for photos against a VIP backdrop with various props including a picture frame and silly disguises as a memento of their time at college.
ICT and Computing courses at CONEL
Computing and IT is at the cutting edge of digital communication technology, working to produce innovative and creative projects in every aspect of our lives. There are exciting possibilities in this sector including software development, programming, digital design, virtual reality and more.
Apply for Computing courses
Laila Hassanzadeh, Head of School for Computing, Creative and Media, said: "This academic year students have produced some amazing pieces of work, which has been reflected in their high achievement rates this year.
"The End of Year Show was a wonderful way to showcase their work and celebrate the successes of all our wonderful students."
If you're looking to get into the media or IT, CONEL's courses will give you the knowhow to work in these fast-growing and exciting industries. Apply now for Digital Media and Creative Computing courses here and ICT and Computing courses here.
The College of Haringey, Enfield and North East London (CONEL) has teamed up with Building Heroes to offer free construction training to former members of the Armed Forces.
Since April, 22 ex-military personnel have completed a five-week course with the college in partnership with the charity and construction giant Regal London.
Building Heroes was established in 2014 and works with the education sector and employers to provide construction skills training and employment support for service leavers, veterans, reservists and their families.
CONEL is providing onsite training for a Construction Skills Level 1 Diploma an a Health and Safety Level 1 Award along with training to gain a CSCS card, which they need to be able to work on building sites.
Training is taking place at a Regal London construction site in Clarendon Road, Watford, where a new 25-floor residential development comprising 168 homes is being built.
The first two groups completed their training in May and July, with a third group expected to start in September.
Ade Jerry, 40, joined the Army in 2004 and served for 10 years but left on medical grounds, which included severe post-traumatic stress disorder.
"I wanted the opportunity to learn new skills and better myself in life. I received full support from the Building Heroes team, which really helped me in finding a new direction," he said.
"The tutor was fantastic and provided me support in both the theoretical and practical side of the course. The academy provided me some experience working on site and a fresh perspective.
"Both Building Heroes and CONEL helped me with any difficulties I had and helped me create a different perspective within myself. It has left me feeling positive about the future."
Ross Gordon, 21, left the Army after deciding it was not the right career for him. He turned to Building Heroes having gained some construction experience during his service, building the first NHS Nightingale Hospital during the pandemic.
He said: "The course content enabled me to practice different skills and work out what areas I liked/didn't. It pushed me in the right direction. I couldn't have asked for a better tutor and felt fully supported throughout the duration of the course.
"I enjoyed the variation of the course content and the extra extended projects. We were able to see other sites and get some perspective of all the trades we were learning about."
Both Ade and Ross have both gained contract work with Regal London and are looking at other courses to advance their skills and careers.
Last month, to mark Armed Forces Week from 20-25 June, the most recent group won a Construct a Cake competition, set by Building Heroes, to make a cake out of building materials.
Gary Lee, Curriculum Manager for Construction, Plumbing and Electrical at CONEL, said: "Our Armed Forces do so much for our country, and we felt it only right that we give something back to those who have served in conflict or more recently assisted and provided support during the pandemic.
"Regardless of their starting point and the challenges they have faced, all the ex-services personnel who have signed up have all shared a military attitude and determination to achieve."
Construction courses at CONEL
Our vocational courses in Construction, Plumbing and Electrical Installation will give you the skills
you need to work in these booming industries.
Apply for Construction courses
According to Building Heroes, 15,000 people leave the Armed Forces each year, with the percentage of working age veterans expected to increase from 37 per cent in 2016 to 44 per cent in 2028.
The Construction Industry Training board (CITB) has reported 217,000 new workers are needed in the construction industry by 2025 to meet the demand for new housing in the UK.
Brendan Williams, CEO and founder of Building Heroes, said: "Building Heroes is excited to be working with CONEL at our new Regal London onsite training academy in Watford.
"The college's flexibility in finding a way to support us and the quality of leadership and tuition has been exceptional, and we've received excellent feedback from our first cohort of learners.
"We look forward to continuing this relationship and looking for innovative and exciting ways to extend this partnership."
If you are a former member of the Armed Forces interested in how Building Heroes can help you get the skills for a career in construction, you can find out more here.
CONEL also runs Construction courses in brickwork, carpentry, plumbing and electrical installations at its centres in Tottenham and Enfield, and has partnered with leading industry employer Ardmore on the London Welding Academy in Enfield. Find out more and apply here.
An accountant who trained at the College of Haringey, Enfield and North East London (CONEL) has revealed why she has consistently looked to the college when recruiting new employees.
Ela Rygala, 33, works as a Management Accountant at Serve Legal, a market leading provider of ID and compliance testing in the UK and Ireland, based at Millbank Tower in Westminster.
She started as a part-time Accounts Assistant, which later changed to the role of Accounts Data Assistant, while studying for her AAT Accounting qualifications from 2012-16.
Ela, who has a degree in accounting and finance from her native Poland, passed her AAT Accounting Diplomas at Levels 2-4 and was promoted to Management Accountant in 2020.
"I thought an AAT course would be perfect for me to adjust to how English tax law and regulations work and also get more confident in the English language," said Ela, who also took GCSEs in Maths and English at CONEL and attained grades A* and B.
"Very quickly, I got to know CONEL was a good choice. What I really valued was that the teachers gave us room for self-development and to ask questions about how and why tasks are done in a particular way. They encouraged you to read at home and come prepared for lessons rather than assuming everything will be taught on the course."
In 2017 Ela employed CONEL student Tia Esprit-Cooper part-time to enable her to complete her AAT qualifications at Levels 2-4, and last year she recruited Ronny Houillet who has recently completed a Level 2 Pre-apprenticeship at the college.
"I know from my own experience that CONEL has great tutors who are producing great accounting talent, so when it came to recruiting for our finance team my first suggestion to my manager was CONEL, to see if they can recommend a good student."
Tia, 25, from Waltham Forest, initially trained in events management and hairdressing before finding her vocation in accounting. She now works full-time for Serve Legal and was promoted to Bookkeeper and Credit Control Manager last year.
"CONEL recommended me and another student for the role at Serve Legal and sent over my CV. I was invited to an interview and a trial day and they offered me the job," she said.
"My previous paths had been quite creative and were more like hobbies, and I came to a point where I was looking for a career and something that had more longevity.
"I didn't have any experience, but because I'd been recommended by the college there was a bit more comfortability there. It gave me confidence knowing they thought I was good enough to be put forward for this role.
"I did wonder whether I could see myself doing it long-term, but now I honestly can't imagine myself doing anything else."
Ronny, 24, from Enfield, who previously worked as a Data Analyst, has now opted to study for an AAT Accounting Level 3 Diploma while working part-time at the firm rather than an apprenticeship.
"I wanted to go to university to study economics but changed my mind and went straight into work but wasn't sure exactly what I wanted to do. I always wanted to do something with numbers and last year I made a plan to go down the accounting route," he said.
"Accounting can open up a lot of opportunities and I'm excited about where it's going to take me. There are a lot of skills I've been able to bring over from my previous experience, such as making numbers match, paying attention to detail and spotting errors. Every business needs an accountant, so you can work almost anywhere."
Ela knew she wanted to work in accountancy from a young age and is quick to dispel the myth that it is quite a dry and uninspiring career.
She said: "I enjoy everything about accounting. It gives you a lot of satisfaction when all the reports and reconciliations are done and everything is balanced at the end of the month. Often we'll look closely at clients' margins, what is driving them and make recommendations to improve them.
"There are many different areas of accountancy from very broad skills like bookkeeping to more detailed auditing or focused project work. There is room for people with many talents in accountancy, even people who are not that good with numbers but have good analytical skills.
"It might be perceived as a bit dry but there is some charm in routine, and with the ways different companies operate there's great potential to master different skills.
"I see nothing boring in my job. It can be difficult sometimes, but it is definitely far from boring."
Apply now for Accounting courses and apprenticeships.