Love Island star Zara McDermott gave Creative Media and IT students an exclusive screening of her new documentary on eating disorders when she visited the College of Haringey, Enfield and North East London (CONEL).
The social media influencer, who appeared in the fourth series of the ITV2 dating show, shared her experience of making the film, which highlights the huge rise and impact of eating disorders among children and young people.
Zara, 25, acknowledged the impact social media has on young people and their body image, and shared how she had been trolled about her appearance after appearing on Love Island.
"When thousands of people are saying things about how you look it is hard not to believe that. My own fitness and health journey came from wanting to fit into that perfect body image," she said.
"I'm in a good place now, but when I look back now and I think it's sad that there is such pressure to look a certain way, and that is amplified so much when you come out of show like Love Island. It's not natural to experience that. It affected how I feel about myself, and I am sure it would affect a lot of other people too unless they were extremely resilient."
CONEL was one of five colleges chosen to get an advanced viewing of the documentary called Zara McDermott: Disordered Eating, ahead of it being broadcast on BBC Three and on BBC iPlayer.
WATCH: Zara McDermott: Disordered Eating
On her transition from reality star to TV presenter, Zara said: "Making a film like this was a really valuable learning process. I lived and breathed it for as long as it took to make. I feel so much more confident in myself than when I was 21 on Love Island, when I was extremely shy bizarrely. Now I'm doing things like this that I'd never have been able to do a few years ago."
Disordered eating covers a wide range of complex problems including undereating or overeating, excessive exercise, focusing more on appearance and anxiety around mealtimes.
The documentary takes an in-depth look at the impact of social media, as well as speaking with young people who are living with disordered eating and those in recovery.
Elfreda Boateng, 19, who is studying for a Creative Media Production Level 3 Diploma, admitted that she had previously struggled with how she looked because of social media.
She explained how she felt conflicted between having a fuller figure favoured in Afro-Caribbean culture and the slimmer ideal of other ethnicities that she often saw online.
"The film shone a light on a topic that people don't really talk about. I went through the same as one of the girls in the documentary, which helped me come to terms more with what happened to me," she said.
"When I was younger, I felt the pressure to conform to what I saw on social media and force myself into an ideal that I could not fit into. I was already quite slim, but I felt I needed to be slimmer but at the same time I was being told to gain weight, so I was in a binge and restrict cycle.
"Social media affects how you think people perceive you in society. A lot of the content is pushed for you to watch, and that is something I now try to separate myself from a lot."
After the screening, students asked several questions about eating disorders and the making of the of the programme during a Q&A session with Zara and some of the production team.
Giving his advice to the group, BBC Commissioning Editor Max Gogarty said: "There is no one route in, and the truth is a lot of it is based on your ability to hustle, knock down doors and get your first foot into a production company or a studio, or find a director or someone you look up to or aspire to be in the industry. As soon as you get that first runner job, even if it is making cups of tea, you're in, and once you're in there's a path you can climb."
He told students that it can be tough making TV programmes, which often require long days of travelling and filming, and explained that 65 hours of footage was shot for the one-hour documentary.
Zara urged students to look at the name of production companies on the end credits and contact them for work experience at evenings and weekends as well as college holidays.
The screening also provided an opportunity to introduce students to the BBC Young Reporter scheme, which helps young people develop content ideas, share their stories and find out about broadcasting careers.
Tamara Lesniewska, Curriculum Manager for Creative and Digital Media, said: "Our students were excited to meet Zara and get a preview of her new documentary. It was a powerful and emotive film that resonated with many of the students who took their chance to ask her about the making of the programme, as well as advice on working in the media."
Apply now for Creative and Digital Media courses here and IT and Computing courses here.
Hundreds of newly enrolled students found out more about college life and the wealth of other support available to them at Freshers Fairs across Capital City College Group (CCCG).
City and Islington College (CANDI), Westminster Kingsway College (WestKing) and the College of Haringey, Enfield and North East London (CONEL) all hosted welcome events.
CANDI held a combined fair for students enrolled at its Sixth Form College and Centre for Applied Science along with fairs its Centre for Business, Art and Technology and Centre for Lifelong Learning.
A 'Welcome Fest' was held at the WestKing's King's Cross Centre and another fair took place at the college's Soho Centre, and Michelin-star chef Michel Roux welcomed Hospitality and Culinary Arts students to the college's Victoria Centre.
Among the organisations attending the CANDI and WestKing fairs this year were IMECE, Papyrus, Octopus Communities. Islington Youth Council, NHS, All Change, Lift, Step into Dance, Kooth, We Speak, Brook, Go-Forward Youth, Flint & Flame, The Caterer, Koppert Cress, Compass Group, Arts Emergency and the Craft Guild of Chefs.
CONEL's Tottenham and Enfield Centres hosted fairs, which included stands from Let's Talk IAPT, National Citizen Service, Tottenham Hotspur Foundation, Metropolitan Police, Proud North London, Pirate.com, Reed Wellbeing, ReachOut, The Rebel School, Pure Gym and Terrence Higgins Trust.
We want to enrich our students' lives with more than just qualifications. Our aim is to help them develop a broad range of skills and qualities that employers look for, including communication, teamwork and problem-solving, as as well as ensuring they have a great time at college.
Throughout each year CCCG's colleges run a range of enrichment and extracurricular activities to give them greater insight into their studies and future careers and to support their health and wellbeing, including trips, guest speakers, sports, clubs and societies.
Students can get to know their peers through a range of student-run activities including our Student Equality, Diversity and Inclusion Committee, Learner Voice, or college clubs and societies – from football and table tennis to debating and a poetry club.
Students can volunteer to become a Student Ambassador, study buddy or a peer mentor. These important roles help our students develop their confidence and interpersonal skills and look really good on a CV, job application or university application.
Our centres have on-site canteens and cafés, serving a daily menu that includes healthy options. Canteen meals are great value for money and are a good opportunity to relax with friends between lessons. All of our centres have libraries and some have on-site gyms, so you can keep your body fit as well as your mind.
Find out more about Student Life here.
Students and apprentices celebrated a year of outstanding achievements at the first Capital City College Group (CCCG) Excellence Awards.
Around 60 awards were presented to learners in recognition of their hard work, commitment and success over the past year at a glittering ceremony at Tobacco Dock in east London.
Students from City and Islington College (CANDI), Westminster Kingsway College (WestKing) and the College of Haringey, Enfield and North East London (CONEL), and apprenticeship and training provider Capital City College Training (CCCT) all received awards.
Awards were also presented to participants of entrepreneurship programme Visionnaires, which started within CCCG in 2019, and 01 Founders, a coding school launched with CCCG in 2021.
Organisations that work with CCCG were also honoured. Arsenal in the Community received a Community Recognition Award while Nominet and Building Heroes/Regal London were handed Employer Partner Awards.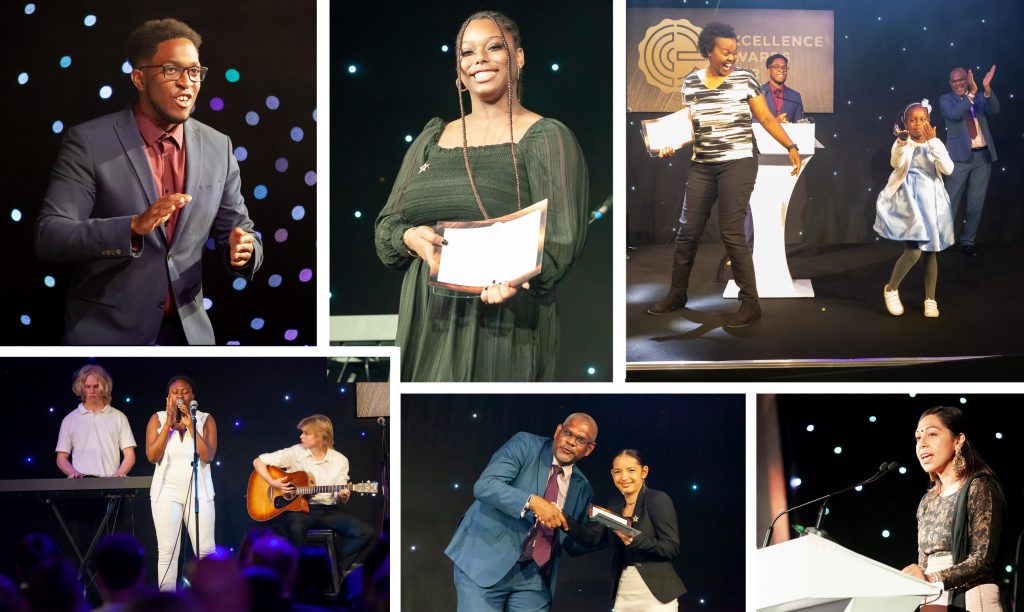 The ceremony was compèred by Kamal Ellis-Hyman, Founder and Director of Aim A Little Higher, which runs personal development programmes for young people across the UK.
Alastair Da Costa, Chair of CCCG, welcomed the award winners and their families and presented the awards along with Jasbir Sondhi, Vice Principal of WestKing, and David Dangana, Director of Group Quality and Compliance.
He said: "Excellence is hard work realised. It takes dedication, perseverance, overcoming frustrations and doubts. Realising excellence requires support from friends and family, it requires picking up when you are down, and it is right to celebrate achievement and success with friends and loved ones.
"This evening, I want to thank you all for being excellent, whether you win an award, are supporting those who win an award or whether you have taught and helped those in this room to realise their potential."
Awards were presented to students from across CCCG's provision including many who had achieved success at college and overcome major challenges during their studies.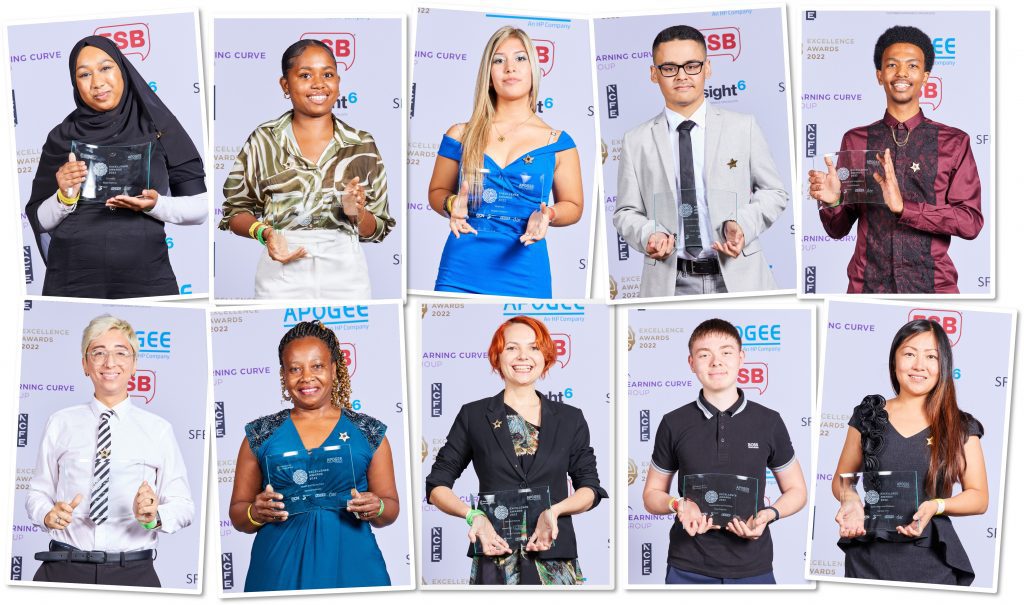 Among the award winners was Vivek Quissor who gained a triple-starred Distinction in his Public Services diploma at CANDI and was praised for the quality of his well-researched assignments and being an inspiration to other students.
Vivek, 18, who is now studying for a BA (Hons) Criminology and Criminal Justice at the University of Greenwich, said: "My lecturers provided an outstanding level of teaching throughout the length of my course. I credit my success to them. They left no stone unturned when it came to making sure that assignment work was completed to the highest of standards."
Also picking up an award was Mariana Ghertan who completed her Healthcare Support Worker apprenticeship with CCCT despite catching COVID twice and suffering family bereavement.
Mariana, 36, said: "My tutor was the most incredible support. She encouraged me not to give up and offered me more time. I spoke to my husband and sons who had seen how much hard work I had put in. They said that my mum was proud of me and would have wanted me to finish, so I did."
Tyler Minter, 24, wanted to start a Rail Engineering apprenticeship with Alstom and CONEL after learning he was to become a dad. He was described by his tutors as "an exceptional student" who produces a high standard of work and is a perfect role model to his peers.
He said: "I love the fact that I'm learning while also getting hands on experience. I'm gaining knowledge that is vital to the job and also putting it to use in a practical sense. I'm also not getting into debt like a lot of people who go to university do, and I'm earning a good salary."
The final award of the night was the CCCG Inspiration Award, which was presented to CANDI Art and Design diploma student Georgiana Guias, who was praised by her teachers for her dedication, intelligence and enthusiasm, as well as her support for her peers.
Georgiana, 18, who is now studying a BA (Hons) Architecture at Central Saint Martins, said: "It's a big surprise to get this award because everybody on the course worked hard. The course was challenging but I got to learn new skills and techniques and the teachers were friendly and supportive of me and other students."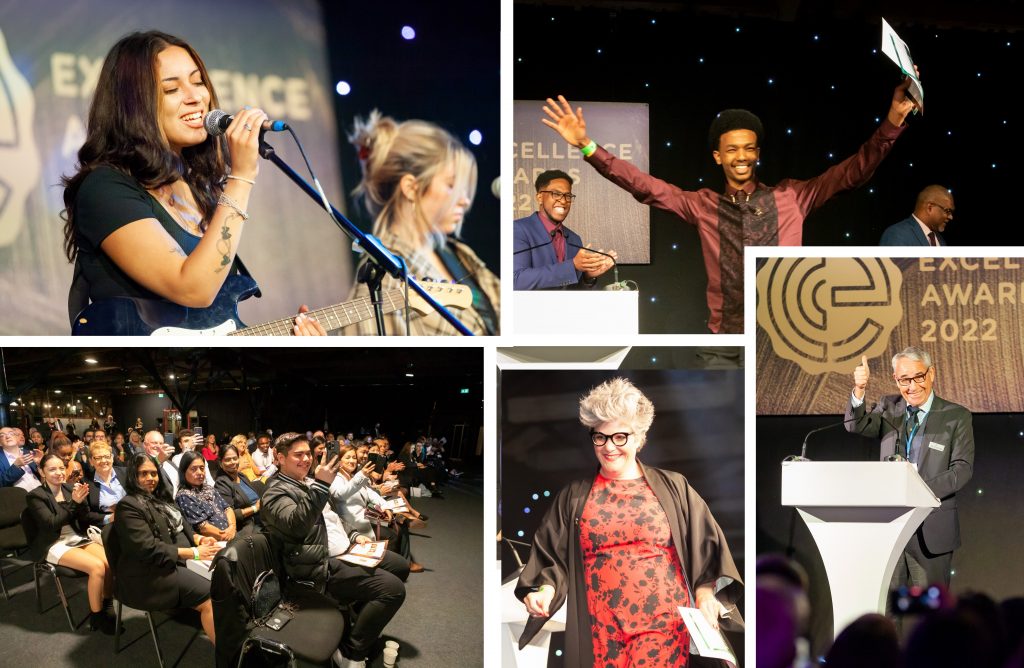 The ceremony also featured live performances by Music Performance and Production students from CANDI and WestKing.
CANDI students Beth Cook, 18, Gloria Elubode, 17, and Ralph Heywood, 17, performed their own composition entitled Faith and Strength is the Key.
WestKing students Gabi Reece, 18, and Isabelle Linehan, 17, together known as The Park, performed their own work called She'll Stay.
Hospitality and Culinary Arts students from WestKing served canapés at the event with front of house service run by WestKing's Travel and Tourism students and CONEL's Public Service students.
The ceremony was sponsored by Apogee, NCFE, OCN London, Gateway Qualifications, Dar Group, insight6, Learning Curve Group, Candor Professional Beauty Academy, ESB, GLL, SFEDI Group and 3Drakes.
Roy O'Shaughnessy, CEO of CCCG, described the evening as "absolutely incredible and inspiring" as he congratulated the award winners, staff, sponsors and organisers of the event.
He said: "I want to congratulate our staff, students, their families and friends and thank them for making this evening such a wonderful success. It is such a privilege to look around this room and see students, teachers and staff from across the Group, sitting here today and celebrating the hard work of those that we've honoured, so really, truly well done.
"We wouldn't have been here without our sponsors, and I would like to thank them on behalf of our staff, students, staff and governors. Your work means that at CCCG we not only can offer courses and programmes, but we are able to work with employers to give opportunities for our students to create the future for London."
Find out more about our wide range of courses and apprenticeships here.
Adult students excelled in this year's GCSE results at the College of Haringey, Enfield and North East London (CONEL) with more than half achieving high grades in maths.
The college saw 56.8 per cent of students aged 19 or over pass their maths exam with high 9 to 4 grades while 46.1 per cent of adults were awarded top grades in English.
Students taking their GCSEs were sitting exams for the first time since the COVID pandemic with many studying them alongside full-time courses and some without English as a first language.
Overall CONEL saw 30.9 per cent of students achieve high grades of 9 to 4 in English and 30.5 per cent attain 9 to 4 grades in maths with many going on to further study or employment.
Hanieh Damer Cheli, 33, achieved a grade 9 in maths and a 5 in English along with a 9 in GCSE Combined Science. She now hopes to study A Levels or an Access to Higher Education Diploma.
She said: "I couldn't sleep and woke up at 4am! I was so nervous that I asked my friend to check my results. I was predicted 8 or 9 in maths. I was expecting a bit higher in English, but I've still got good grades.
"My English teacher was fantastic. She was so caring and kind and really paid attention to her students. I felt confident about my knowledge going into the exam. I'm so happy, and I can now plan for my future. This is the first step to university, but I know I can do it."
Lwin McLay, Kamile Dilberoglu, Mahsa Moradaghay, Besjana Begaj and Habibeh Esmaeil Zadeh all attained a grade 8 in maths.
Lwin, 45, who also completed an AAT Accounting Level 3 Diploma and is now progressing to Level 4, said: "I was very excited when I got my result. My tutor was excellent and helped us prepare well for the exam. He knew his subject and all the topics that were going to be covered this year.
"He gave us all the information and laid out all the resources we needed, and we also did a lot of past exam papers in class. As long as you put in the work and study, you can achieve anything."
Andy Brenya, 19, gained a 6 in English and a 7 in maths while also studying for the first year of an Applied Science Level 3 Diploma, which he is expected to complete next summer.
He said: "The teaching at CONEL was very good. In English my teacher broke everything down, which made it very easy. In maths they did everything to help me understand and we would have tests every week. It gave me the confidence I needed going into the exam."
CONEL offers A Levels at its Enfield Centre through its City and Islington College (CANDI) Sixth Form Hub. It also offers vocational courses at its Tottenham and Enfield Centres in Accounting, Business, Construction, Engineering, Creative Media, Health and Social Care, Childcare, Hairdressing, Beauty Therapy, Computing, Music, Public Services, Science, Sport, Teacher Education and Travel and Tourism.
The college also offers a wide range of apprenticeships with top employers across London through Capital City College Training enabling you to earn while you learn.
Kurt Hintz, Executive Principal of Capital City College Group, which includes CONEL, said: "I would like to congratulate all our GCSE students on an excellent set of results this year.
"It is a tribute to their hard work and resilience and the dedication and support of our teachers and staff that they have achieved the grades they deserve. I wish them all the very best for the future."
Places are still available at CONEL this September. Find out more about our courses and apprenticeships here and enrol today.
Students immersed themselves in South Korean culture and discovered more about the country's growing tech and green economy on an 'unforgettable' trip of a lifetime.
Thirty students from across Capital City College Group (CCCG) went on the three-week trip funded by the Turing Scheme, the UK's global work and study programme, and found out there's much more to South Korea than K-pop and Squid Game.
Staff and students from Keimyung College University (KMCU) in the southern city of Daegu welcomed the students who were paired with Korean 'buddies' to show them around and give them a chance to practise their Korean.
Before the trip students took lessons in Korean and visited the Korean Cultural Centre UK in London to discover more about the country's culture, history and traditions.
The students continued to learn Korean on the trip and took part in activities including learning taekwondo and visiting the Gyeonju National Museum and surrounding national park.
They also tried many traditional dishes including dotori-muk, an acorn jelly, and chalbori-ppang, a barley bread, and later made rice cakes and tofu in the village of Danglin.
Students travelled to JEI University in Incheon and Kyungbuk College in Yeongju to see the latest advances in Industry 4.0, the development of automation using smart technology, and the green sector. They worked alongside their Korean peers to research and deliver presentations on how they and their colleges can tackle climate change and what can be done in the UK and Korea.
The trip also included visits to the Yecheon Astro-Space Center and Korea Radioactive Waste Agency.
Rania Abdi, 18, an A Level student at Westminster Kingsway College, said: "My three weeks in South Korea made such a huge impact on me. I've learnt more about the green agenda and climate action, how to understand and navigate an entirely new culture and formed friendships I will value for the rest of my life.
"I am extremely grateful for this experience and will forever cherish the memories created from my short yet sweet time spent in South Korea."
The Korean Tourism Organization secured tickets for the students to watch Tottenham Hotspur's pre-season friendly against K-League XI, a team of players from the Korean football league, and to see Cookin' Nanta, the country's longest running theatrical show.
Travel and Tourism at CONEL
At CONEL, our travel and tourism courses have paved the way for many previous students to gain employment in this growing field. Working in the sector is vibrant, exciting and constantly changing, giving you the opportunity to meet new people and travel across the world.
Apply for Travel and Tourism courses
Students also visited South Korea's capital Seoul and took a bus tour of the sights. They were also invited to Korean Polytechnics' artificial intelligence and engineering facilities in the city.
Sylvia Lafford, 18, a Creative Media student at Westminster Kingsway College, said: "This trip has changed my life. I always wanted to study an East Asian language and learn more about their culture. Over the next few years, I'm going to study Korean and potentially apply to a university in Seoul.
"I've made some amazing friends who made this trip unforgettable. Overall, it's made me more confident in myself, but most importantly it has broadened my horizons for my future. It will stay with me for a very long time."
CCCG comprises City and Islington College, Westminster Kingsway College and the College of Haringey, Enfield and North East London, and apprenticeship and training provider Capital City College Training.
Seungeun Chang, Head of International Development and Operations, said: "This was our first trip under the new Turing Scheme and was an incredible and fascinating adventure for all the students, who fully immersed themselves in the Korean culture, language and lifestyle.
"Our hosts at KMCU, JEI University and Kyungbuk College warmly welcomed us all. They arranged so many wonderful experiences for our students, from learning about Korea's growing technology and green sectors to trying taekwondo and visiting museums and parks. I cannot thank them enough for their kindness and hospitality throughout our visit.
"Each and every one of the students on the trip has told us how much they enjoyed it and how much it will stay with them for the rest of their lives.
"We look forward to continuing to build our relationships with Korea and planning similar trips to other countries through this valuable scheme."